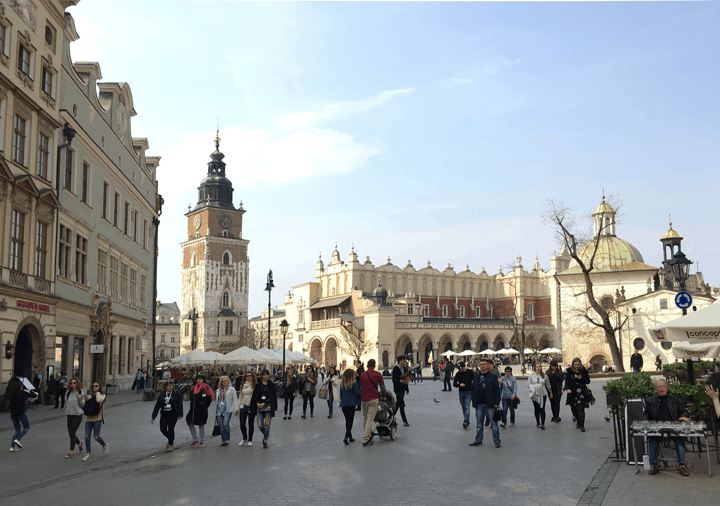 Krakow, Poland is one of the most iconic cities in central Europe. With a past that dates back to the 4th century, many city structures remain untouched by the ravages of World Word II or Soviet Era reconstruction. Krakow was included in the first ever UNESCO World Heritage List of 12 sites in 1978. It is a walkable city, a great destination to explore. Here are our top 7 "not to be missed" sites.
The Main Market Square is one of the largest medieval squares in Europe. It is the city's hub, a sprawling open space of 10 acres surrounded by townhouses, churches, restaurants, cafes and shops.
This magnificent church is home to a breathtaking 15th century golden altarpiece dedicated to the Virgin Mary. In the watchtower next to the basilica a bugle player plays 24/7 on the hour.
The traditional coronation site of Polish kings since 1319, the castle underwent numerous renovations and additions throughout the years. The castle complex includes royal apartments, state rooms, armory, and the impressive Royal Cathedral.
The site of the Schindler Factory where Oscar Schindler saved over 1,000 Jews is now a museum with a permanent exhibit dedicated to the city of Krakow during the Nazi Occupation 1939-1945. Using archival documents, photos, films and personal stories, the museum brings to life the horrific fate of Krakow's Jewish population.
This district, south of the Old Town, was the center of Jewish life in Krakow for over 500 years until the Nazi's extermination of its population. Today, the district's Jewish heritage comes back to life through the rehabilitation of old synagogues, cemeteries and cultural life.
This is the site of the largest Nazi death camp where between 1.1 million and 1.5 million mostly Jews were systematically exterminated. The Auschwitz Museum and tour bear witness to one of mankind's worst atrocities.
The Wieliczka Salt Mine has been a tourist destination for centuries, visited by notables including Copernicus, Goethe, Chopin, Pope John Paul II, and President Bill Clinton. Listed on the first UNESCO World Heritage List in 1978, the mine is one of Poland's most popular attractions. Over 7,000 daily visitors descend to this underground marvel and discover awe-inspiring chapels, statues carved out of salt, and underground lakes.