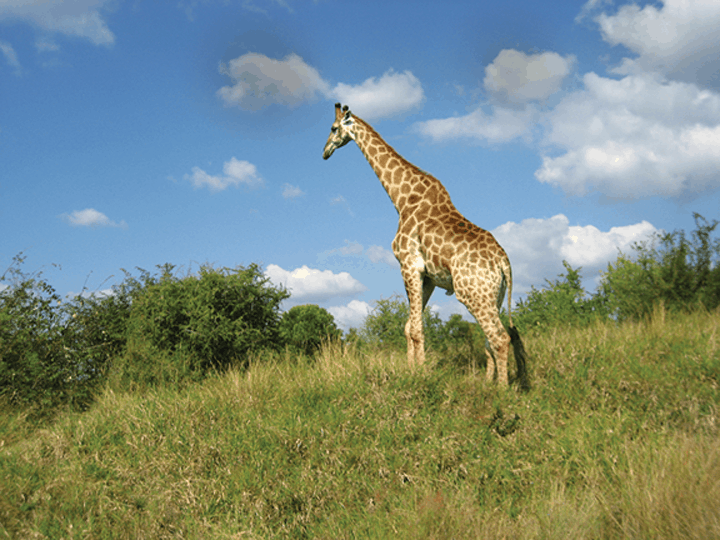 South Africa is a beautiful and diverse country with sparkling oceans, soaring mountains, luxurious hotels, fantastic wines, delicious cuisine, and amazing wildlife. We visited the city of Cape Town, its surrounding area and two game reserves in Kruger National Park.
CAPE TOWN & VICINITY
Cape Town is a picturesque city set at the feet of Table Mountain, a soaring flat top plateau rising to an elevation of over 3,500 feet. A climb (or cable car ride) to the top rewards the visitor with awe-inspiring views of the Atlantic Ocean and the scenic downtown.
The city's hub of activity is the Victoria and Alfred waterfront, a lively complex of over 400 shops and more than 45 restaurants in the bustling port. The V&A also features an aquarium, movie theaters and numerous boat-rides. Browse the crafts market for a large selection of African art and decorative objects.
Take a scenic day trip around Cape Peninsula, along Africa's southern coast and visit Boulders Beach, famous for its penguin colony. The area is accessed via special walkways that crisscross the habitat where tiny African penguins tend to their eggs, feed, frolic in the sand and splash in the cool sea.
Continue south along the coast to Cape Point, on the tip of the peninsula. Take the funicular to the top of the mountain and hike along a winding trail towards a picturesque lighthouse. This high vantage point offers dazzling views of rock formations and the merging of the Atlantic and Indian Oceans.
Next stop is at the Cape of Good Hope, first reached by Portuguese explorers in 1488 in their quest to find a passage to India. The place is barren and flat, populated by a few ostriches and by visitors posing for a mandatory photo behind the Cape of Good Hope sign.
On the way back to Cape Town, travel along the scenic Chapman's Peak Drive, a 6-mile road snaking through soaring cliffs that plunge into the ocean below.
THE TWELVE APOSTLES HOTEL
Nestled on a rugged coast at the edge of the Atlantic, the award-winning Twelve Apostles Hotel has the ambience and allure of a luxurious seaside inn. The elegant rooms, decorated with rich fabrics and calm colors, offer a relaxing atmosphere. Many guestrooms face the expansive sea, while others overlook manicured gardens and the craggy mountainside. Behind the hotel there are mountain trails, ideal for hikes or easy nature strolls.
Make sure to experience their spa, a cozy underground grotto with hot and cold plunge pools, cascading waterfalls and a hydrotherapy pond.
Dine in the elegant Azure Restaurant indoors or on the seaside terrace. Enjoy the sumptuous champagne and oyster breakfast buffets and their gourmet dinners.
The hotel is a member of the prestigious Leading Hotels of the World network and the winner of many excellence awards.
LAWHILL APARTMENTS
If you prefer condo style living or if you are traveling with family, stay in one of the luxurious Lawhill Apartments. Lawhill occupies a couple of high-rise buildings located steps from the V&A waterfront and overlooking the marina. The apartments, ranging from studios to 3 bedroom suites, are decorated with modern furniture and offer fully equipped kitchens and even washers and driers. Amenities also include concierge services and access to the spa and fitness center at the One & Only luxury hotel next door.
THE WINE COUNTRY
Blessed with a balmy climate and fertile land, South Africa is a major producer of fine wines. A large part of its output is generated in the areas surrounding the charming villages of Stellenbosch, Franschhoek and Paarl. One of the thrills of visiting the wine country is driving along winding mountain roads, taking in the stunning scenery and discovering wineries and restaurants along the way. Hundreds of wine producers dot the hilly countryside, their wine rooms ranging from tiny rustic bars to state of the art facilities.
Taste some fine wines at La Motte, a top wine producer located in a modern, glass enclosed building amidst sweeping vineyards.
Make sure to also visit Dellaire Graff Estate, a winery and lodge perched high on the mountain and overlooking the fertile valley below. Decorated with fine art and modern furnishings, this estate is an architectural masterpiece.
GRAND ROCHE HOTEL
Stay at Grand Roche, a luxurious, award winning hotel in Paarl, in the heart of the wine region. Located on the grounds of an old colonial Dutch farm, the hotel offers the warm welcome of a country inn, modern facilities, and impeccable service.
The thatched-roof guest­rooms are stylish and sleek, appointed with all amenities. The resort's terrace suites feature large, grapevine-covered patios that overlook a nearby vineyard.
For a gastronomic experience treat yourself to dinner at Bosman's, the hotel's signature restaurant. Recognized as one of the country's best, the elegant restaurant offers exquisite gourmet cuisine that fuses flavors, textures and colors. Fine wines and mouthwatering desserts complete the experience.
SANBONA WILDLIFE RESERVE
Sanbona is a private wildlife reserve located about a three hour scenic drive from Cape Town. Home to the "big five" – lions, leopards, elephants, buffalos, and rhinos – Sanbona spans over 200 square miles of undulating hills, rugged rock formations, plains, water holes, and indigenous flora and fauna.
The reserve offers four luxurious lodges: Dwyka Tented Lodge, Gondwana Family Lodge, Tilney Manor and Explorer camp .
We stayed at Tilney Manor, a fenced oasis of 6 luxurious rooms built around an old manor home. The oversized suites are appointed with four-poster beds, self-standing bath tubs, indoor and outdoor showers, and terraces with sweeping views of the reserve.
Life at a game reserve revolves around two daily safari drives at sunrise and sunset. Wake up before dawn, have a cup of coffee, and board an open-air 4×4 vehicle for a three-hour game drive. A ranger (with rifle at the ready) navigates the nimble car along winding dirt roads in search of wild animals.
The daily routine continues with a hearty breakfast followed by lunch and afternoon tea. During your free time you can relax by the pool or indulge in a pampering treatment at the spa.
Before sunset, embark on a second game drive until nightfall to look for nocturnal animals.
Dinner features a la carte entrees, with emphasis on game meats such as kudu (a kind of venison) and ostrich.
Sanbona is home to rare white lions, and we were lucky to view a pride of white and brown lionesses and their cubs playing in the tall grass. We even spotted an elusive leopard walking nonchalantly along our road. The animals are used to the vehicles and do not perceive them as threatening.
We also encountered herds of elephants gobbling trunk-fuls of grass, impalas, kudus, and springboks grazing peacefully in the open plains and we even saw a hippo's snout sticking out of a pristine lake.
KRUGER NATIONAL PARK
Kruger National Park encompasses miles of wilderness teaming with free roaming animals. The park and the adjacent private reserves are dotted with camps, lodges, and accommodations in all price ranges.
We experienced Sabi Sabi Earth Lodge in Sabi Sands private reserve, and Jock Safari Lodge, inside Kruger Park.
SABI SABI EARTH LODGE
The architecturally stunning Earth Lodge is sculpted deep into the earth, almost invisible from the outside. The entrance is through a tunnel leading to an open air lobby facing the sprawling African Bush. The lobby is appointed with furniture and artwork carved from tree stumps and trunks. Ponds, pools and waterfalls add a refreshing visual accent to the dramatic decor.
The huge, modern guest suites are decorated with woods and natural accents and feature individual backyards with outdoor showers, plunge pools, and body shaped chaises overlooking the bush.
The lodge is not fenced in and at night guests must be escorted to and from their rooms to avoid wildlife encounters.
Game drives are led by a ranger and a spotter, who sits on a special mount on the Land Rover's left fender. Since the rides are within a private reserve, rangers are allowed to travel off road and get close to the wildlife.
One of the highlights was a stop in the middle of a buffalo herd. We sat quietly in the meadow, observing hundreds of buffalos, adults and calves, grazing, fighting, nursing, and mating. Later, at dusk, we furtively followed a leopard into the night, watching it stalk a grazing impala. After dark, we approached a pride of young male lions that were lazing in the grass, oblivious to our presence.
In addition to the exciting game drives, we enjoyed ample breakfasts, delicious lunches, and a la carte and buffet dinners prepared by the talented chefs.
A luxurious spa was also available for pampering and relaxation.
Earth Lodge caters to a discriminating clientele, and everything from meals to the attentive service is first class.
JOCK SAFARI LODGE
Jock Safari is a private lodge concession inside Kruger National Park. The rustic camp, built around massive 300 year old Jackal Berry trees, is located in a jungle habitat at the confluence of the Mitomeni and Biyamiti rivers.
The twelve residential cottages evoke the spirit and charm of old Africa. They are appointed with poster beds draped with romantic white netting, colonial style furniture, and cast iron tubs. The suites have an outdoor courtyard with a viewing deck, large day bed, outdoor shower and plunge pool.
The lodge's main building is reminiscent of a tree house. The upper floor is occupied by a lively bar where guests and rangers gather before dinner and exchange safari adventures. On the lower floor there is an open-air dining room serving delicious a la carte meals. The lodge also offers under the stars dining in a "boma," an outdoor fenced-in space illuminated with burning fire pits and paraffin lights. The buffet dinner features African specialties such as buffalo meat pie, pap (a polenta type dish), vegetable stews, and grilled meats.
In Kruger, cars are not allowed to drive off the paved roads, but animals often travel along these routes as a fast way of moving through the park. On our daily game drives we saw herds of majestic elephants, grazing rhinos with their horns pointed to the blue sky, a hyena scurrying to its den, frolicking impalas, beautiful zebras, giraffes stretching their long necks, and a leopard sprawled high atop a tree branch.
RESOURCES
SAA offers non-stop flights from JFK to Johannesburg with connections to Cape Town. They also fly from Cape Town to Nelspruit (Kruger) and back to Johannesburg. www.flysaa.com.
Lion World Tours specializes in group and individual safaris in Africa. They will customize your itinerary and make reservations to luxurious lodges and resorts including Sabi Sabi Earth, and the Twelve Apostles. 1-800-387-2706 or
 www.lionworldtravel.com.
Roots Africa is a local company that offers sightseeing tours in and around Cape Town. www.rootsafrica.co.za.
Seasons in Africa specializes in lodges, adventures as well as transfers to and around Kruger. They also offer private car services, tours to native villages, elephant excursions, and helicopter rides. www.seasonsinafrica.com.
South Africa is an exciting travel destination. Be sure to add it to your "bucket list."