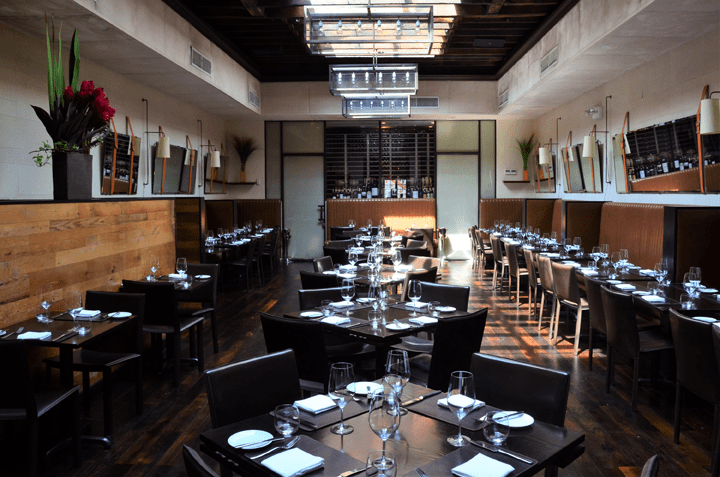 Scarpetta is a hip Italian restaurant with locations in New York City, Montauk, Philadelphia, Newport, Miami and Las Vegas.
We recently visited the New York City restaurant at 355 West 14th Street in the trendy Meatpacking District. The restaurant features a long, lively bar, a small seating area by the entrance and a spacious main dining room with soaring glass ceilings, paneled walls, framed mirrors and modern light fixtures. A glass enclosed wine room at the far end, elegant benches along the walls and white-linen tables complete the décor.
Upon entering the restaurant, we noticed it was packed with couples and small groups of friends. No wonder, since Scarpetta was the recipient of a James Beard nomination for 'Best New Restaurant in America,' a coveted three-star review from the New York Times, and many more accolades.
The menu offered a large selection of Italian inspired dishes. We settled on the seasonal multi-course tasting.
We started with a sampling of oven-fresh focaccia, Stromboli, broccoli bread and Italian baguette accompanied by a delicious caponata, a dollop of soft mascarpone cheese, and olive oil. We continued with our course by course feast:
Raw Yellow Tail with olio di zenzero (ginger) and pickled red onion.
Tuna 'Susci' with marinated vegetables and preserved truffle.
Creamy Polenta with a fricassee of truffled mushrooms. Our favorite.
Ricotta Cappellacci, ricotta, mascarpone, mushrooms.
Spagetti with tomato and basil. A classic.
Black Cod with caramelized fennel and concentrated tomato. A signature dish.
Sirloin of Beef served with potato, fonduta & parmesan.
Bombolini, with champagne white truffle sauce.
We paired our dinner with excellent wines, and concluded with a Muscato for a sweet ending to a memorable dining experience.
We must also mention the impeccable service. We hardly noticed as plates were cleared and replaced, glasses refilled, silverware exchanged and napkins refolded.
We can't wait to dine at Scarpetta's other locations. For NYC reservations call 212-691-0555 or make them online.