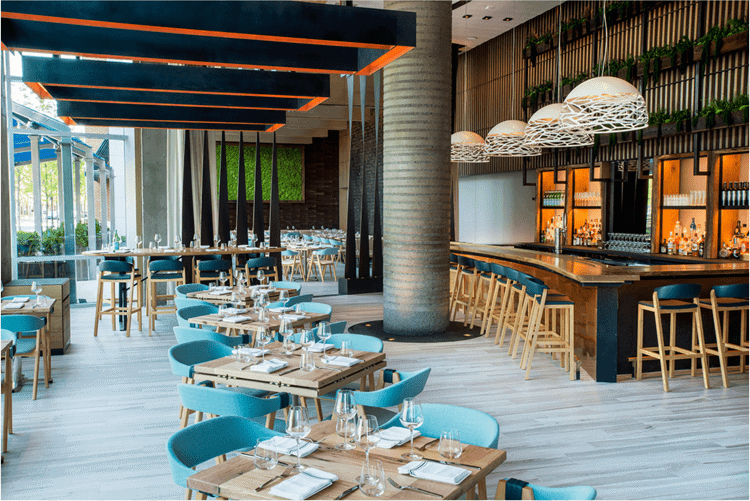 Halifax is a new restaurant located in the beautiful W hotel on Hoboken's waterfront. Halifax evokes the farm and coastal cuisine of the Northeastern seaboard from the Mid-Atlantic to Nova Scotia, featuring locally sourced meat, fish, produce and dairy.
The restaurant's interior, created by Bentel & Bentel (designers of Le Bernardin, Gramercy Tavern, Eleven Madison Park and Craft), is airy and spacious with soaring ceilings and huge glass walls overlooking the stunning Manhattan skyline. The cavernous space is appointed with oversized light fixtures, green plantings, moss and bright colors. In spite of the dining room's large size, the noise level is just right to create a lively vibe without the deafening sound so prevalent in today's "hip" restaurants.
Aside form the décor, the star of the restaurant is its cuisine. It is created by the talented Executive Chef Seadon Shouse, previously at the helm of many prestigious establishments. Chef Shouse is passionate about seafood and sustainability and is a master of dry curing and smoking.
Start with smoked fish, charcuterie and cheeses from the menu's for the table section. Do not miss the maple-smoked salmon, smoked trout, pork lomo, and the country terrine. Toast with a glass of Nino Franco Prosecco Rustico from Italy.
From the raw bar, order the Maine Yellowtail Crudo, thin slices of delicious fish served with crème fraiche, seaweed, cucumber and black sesame vinaigrette. Pair it with a Gerard Bertand Sauvignon Blanc from France.
For entrée, order the popular Maine lobster rigatoni with trumpet mushrooms, lobster coral butter and lemon. A glass of California Cycles Gladiator Pinot Noir will balance the richness of the rigatoni.
Also try the delicious smoked Amish chicken, served with a warm salad of toasted bread, greens, currants, pine nuts, and scallions. Pair it with a glass of Tempranillo, Volver from La Mancha, Spain.
Complete your meal with the smooth and silky Butter Toffee Panna Cotta with Kahlua gelée, espresso meringue and chocolate croquant. Pair it with a glass of sparkling Moscato d'Asti, La Spinetta, Italy.
So treat yourself to a wonderful, Manhattan style dining experience on Hoboken's waterfront. W hotel Hoboken, NJ at 225 River Street. 201-253-2500. halifaxhoboken.com.