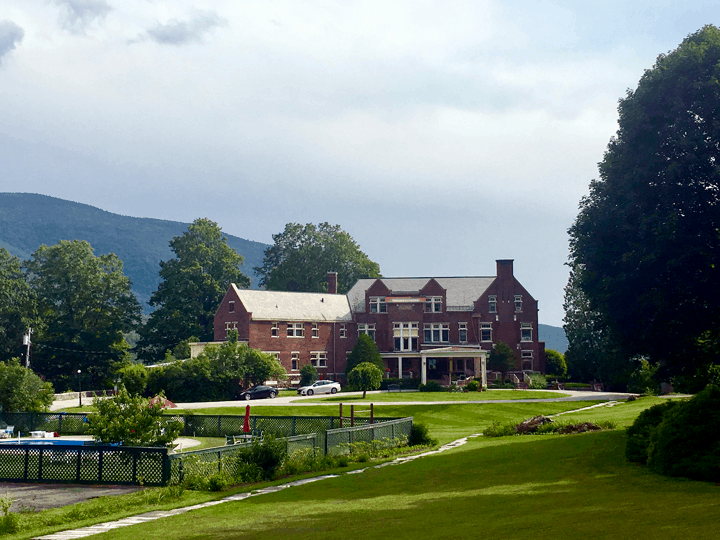 As you drive uphill along the winding road leading to the Wilburton Inn, you are slowly engulfed by a thick forest of soaring trees. Patches of green meadows and deep blue sky shimmer through the clearing. It takes only a few minutes to reach the inn's entrance, but by the time you arrive at the front porch, your blood pressure has already dropped a few points. You stop and take in the main building, a stately mansion looming large above expansive fields and lush pines. A sprawling lawn dotted with sculptures melts into the distance. Far away, a red Easter Island head gazes contemplatively towards the inn.
THE BACKGROUND STORY
During the Gilded Age, the inn's main building was the home of Chicago railroad industrialist Albert M. Gilbert. When completed, in 1902, the majestic mansion and its 500-acre farm was the largest private estate in Manchester. Throughout the years, as financial fortunes ebbed and flowed, the property was divided and subdivided, changing owners and usage. In 1987, it was owned by RKO Pictures and served as a corporate hideaway and restaurant.
That summer, Connecticut psychiatrist Albert Levis and wife Georgette dined at the Wilburton Inn to celebrate Albert's 50th birthday. The very same evening, Dr. Levis decided to buy the property. In addition to running the Wilburton Inn, he planned to create a learning center dedicated to conflict resolution, and a creative environment to explore the interconnections between world religions, morality and art.
Fast-forward thirty years, and you'll find the 80 years young Dr. Levis conducting workshops on psychology, creativity, self-discovery and conflict resolution. He also curates the Museum of the Creative Process and the Moral Science Project and has authored eight books.
He is still at the helm of the inn, now together with his four grown children. Max, a graduate of Harvard Divinity School and a Boston University PhD, runs the inn's daily operations and partners with Albert on his scientific theories. Melissa, a Brown graduate, Off-Broadway songwriter and former "kiddie rock" star, is the marketing director and social media face of the inn. Oliver and wife, Bonnie, who met at Cornell's agriculture school, have developed the Earth Sky Time Community Farm and Bakery, an organic farm that supplies and caters most of the inn's events. Daughter Tajlei, a New York City attorney, pens the storyline for the inn's murder mystery weekends.
ACOMMODATIONS AND DECOR
The inn's 30-acre property can host 150 guests in several cottages and vacation homes and two turn-of-the-century mansions. The main building includes 21 guestrooms, no two alike, but all tastefully decorated with antique furniture, mahogany beds with down comforters, oriental rugs and decorative accents.
We stayed in room #2, originally the master bedroom of railroad baron Albert Gilbert. The oversized room overlooks the lawn, pool and sculpture garden and features a wood burning fireplace, four-poster king bed, period furniture and beautiful area rugs.
It doesn't matter what room you choose, the inn is homey and welcoming and you'll feel as if you are a guest at a friend's estate in the country.
On the first floor of the inn, you'll find a spacious living room with chaises and couches where you can relax, enjoy board games, or read a book from the library. The first floor also features a dining room serving delicious buffet breakfast, a paneled "billiard room" for afternoon or evening drinks, and a large terrace, perfect for getting together with friends or for viewing the enchanting grounds and forest.
The inn also offers the Battenkill Valley Mansion, a private 9,000-foot, 15-bedroom home on a five-acre estate that is popular for multigenerational gatherings, weddings, and corporate retreats.
WHAT TO DO AT THE INN AND ITS SURROUNDINGS
Whether you stay on the inn's grounds or explore its surroundings, there is plenty to see and do here. The inn includes an outdoor pool, tennis courts, sculpture garden, spa services and more.
One of their top summer attractions is Farm Night. Every Wednesday guests enjoy live music and an outdoor farm-to-table buffet style feast featuring delicious vegetarian dishes sourced from and prepared by the Earth Sky Time Community Farm and Bakery.
The inn also offers special packages such as Murder Mystery Weekends and New Year's dinner dance parties. They even feature doggy slumber parties "hosted" by the canine "innkeeper" Jetson (Melissa's Cavalier King Charles spaniel).
If you would like to expand your mind and embark on a voyage of self-discovery, sign up for one of Dr. Levis' seminars. Also, be sure to take a guided tour along the Sculptural Trail to view the inn's art collection depicting world religions and cultures, the role of women in different societies, and pathways to conflict resolution.
Also visit the Henry Gorski retrospective at the Art Gallery in Manchester and discover how art relates to Dr. Levis' Formal Theory. If you want to probe more deeply into your personality, take the series of self-evaluation tests at the inn's seminars or on their website.
There are plenty of things to do outside the Wilburton Inn as well. You can play golf on nearby courses, visit the neighboring ski areas and resorts, and even engage in shopping therapy at the Manchester Designer Outlets. You can also time your visit to coincide with the numerous local Vermont festivals.
However, if you come to the Wilburton Inn just for a short visit, do yourself a favor and slow down. Stay on the property, take long walks, unwind, breathe deeply, and do nothing…
They don't make places like this anymore.