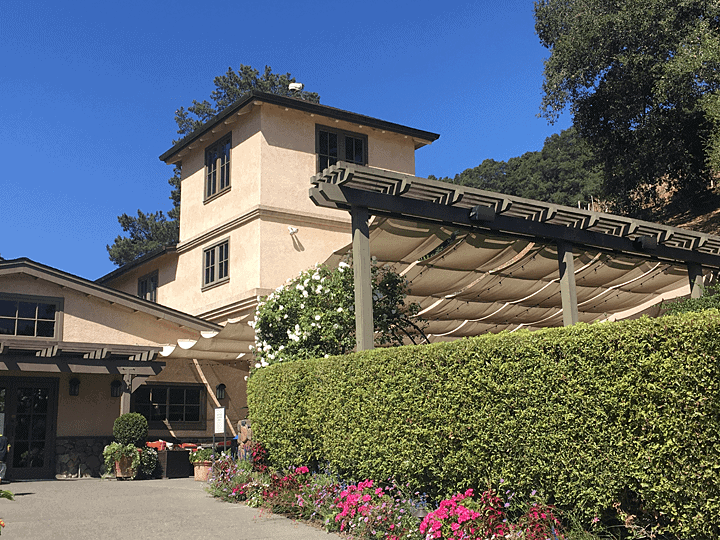 California's Napa Valley is home to hundreds of wineries, large and small, each offering their own creative blends from the vast microclimates and soils of the region.
During our recent visit we enjoyed a special 5 x 5 tour and tasting at the Pine Ridge Vineyards located in the Stags Leap District. The winery specializes in Cabernet Sauvignon hailing from its own five specific grape growing regions.
Our visit begins with a tour of the facility where we view huge stainless steel casks and a network of underground caves lined with French Oak wine barrels. Our guide explains the intricacies of the winemaking craft and we sample a red wine, right out of the barrel, just to see the fruity characteristics of a young vintage.
We continue to a private tasting room where we are each served a flight of five Cabernets, accompanied by five specially created bite-sized tastings. The wines, aligned in order of increasing intensity from left to right include a 2012 Rutherford Cabernet Sauvignon, a 2013 Cabernet Franc, a 2012 Stags Leap Cabernet Sauvignon, a 2013 Oakville Cabernet Sauvignon and a 2013 Fortis Cabernet Sauvignon. Prices per bottles range from $36 for the Cabernet Franc to $175 for the Fortis. The in-between bites are specially selected to enhance the flavors.
Following the tasting, we enjoy a relaxing afternoon in the shady courtyard chatting about our wine experiences with other visitors, and deciding which bottles to share with friends back home.
The winery offers a variety of tastings, but the Five by Five is a connoisseur's delight. Pineridgevineyards.com.