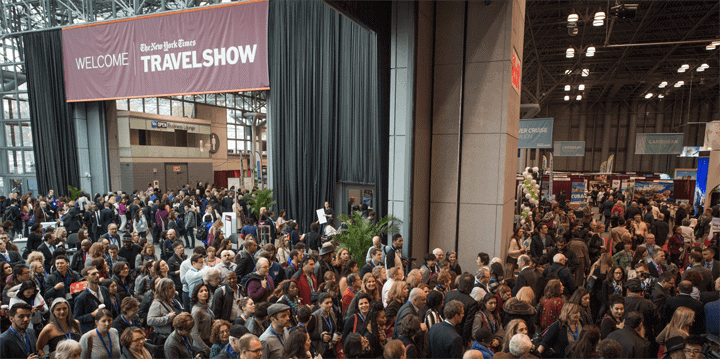 The 2017 New York Times Travel Show, the largest trade and consumer travel show in North America, took place from Jan. 27 to Jan. 29, 2017 at the Jacob K. Javits Convention Center.
The Travel Show featured more than 525 exhibitors from around the world.
Highlights of the 2017 New York Times Travel Show included:
Travel for the Mind, Body and Soul – A Wellness Travel Pavilion, including a Best Life Stage, Get Fit Zone, and various booths. The pavilion hosted and showcased leading experts in the wellness travel industry, including hotels, resorts, spas and other organizations.
Family First – A Family Travel Pavilion featuring exhibit booths, a stage and a kids demonstration area. The pavilion showcased lodges, resorts, destinations, cruise lines and dude ranches.
New Seminars – The show featured cultural presentations and performances, food demonstrations, and one-on-one conversations with travel experts and influencers.  The show also presented new seminar topics such as Travel Destinations and Tips for the Active Aging Traveler, The Sharing Economy:  Exchanging, Swapping & Rentals and Beyond the Selfie:  Creating Ethical Travel in Today's World among many others.
Featured speakers included:
Pauline Frommer, travel expert and radio host
Peter Greenberg, author and CBS News travel editor
Julia Dimon, adventure travel writer, blogger, and TV personality
Patricia Schultz, travel writer
Rudy Maxa, travel journalist, creator of Rudy Maxa's World with the Careys travel radio show
Robert and Mary Carey, co-hosts, Rudy Maxa's World with the Careys
Johnny Jet and Chris McGinnis, travel experts