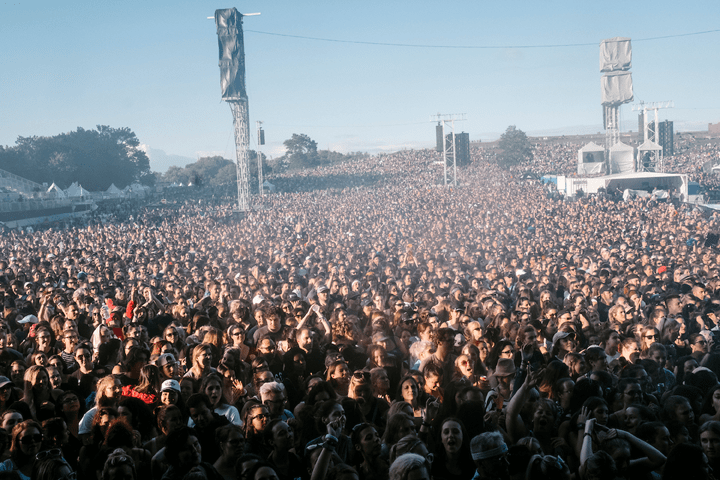 Québec City is a UNESCO World Heritage treasure located in Canada's Québec province. Its waterfront of fortified walls and the towering Château Frontenac are iconic symbols of the city. Visitors from around the world are drawn to its French allure and European charm. The Old Town's narrow streets are teeming with tourists who enjoy art galleries, quaint shops, outdoor restaurants and cafés.
One of the city's top summer attractions is its Summer Festival.
THE SUMMER FESTIVAL (FESTIVAL D'ÉTÉ DE QUÉBEC)
Considered Canada's most prominent music festival, the Festival d'été de Québec attracts thousands of people from around the world. The 11-day celebration takes place every July and features up-and-coming artists as well as world-renowned stars. Past festival headliners have included The Rolling Stones, Lady Gaga, Bon Jovi, Sting, Red Hot Chili Peppers, Snoop Dogg, Aerosmith, Elton John, The Black Eyed Peas, Billy Joel, Plácido Domingo, Charles Aznavour, KISS and more.
Every year the festival offers close to 300 performances featuring over 1,000 artists. They cover all musical styles including rock, pop, French songs, hip-hop, rap, electro, blues, folk and world music.
The concerts take place at different venues and stages, both outdoors and indoors. The primary stage, the Bell Stage, located in the historic battlefield park Plaines of Abraham, is one of North America's biggest outdoor stages. Other outdoor stages are conveniently located in the same neighborhood a short walk away. Admission to the shows is via "all access" or individual performance passes. The Festival d'été de Québec also offers free shows, numerous street performances and outdoor activities.
We recently experienced the first few days of the sold out festival's 50th anniversary edition.
PERFORMANCES WE LOVED
The opening night was headlined by Québec's legendary singer, Isabelle Boulay who celebrated her 25-year career with a concert of French songs that melted the hearts of her raving fans.
Later that evening, we caught up with Melissa Etheridge rocking the night away at the Loto-Québec Stage. She sang, played guitar and gave it all to her adoring admirers.
Another night we were mesmerized as Pink set the Bell Stage on fire with her passionate singing, fireworks, fireballs and smoke. In her finale, tethered by nearly invisible cables, she sang while flying high in the air above the cheering throngs.
We also attended the elaborate, Las Vegas style concert of the Backstreet Boys, who celebrated 24 years of performing. They enthralled the audience of young and old fans with a trip down memory lane performing their popular hits as the crowds sang and screamed deliriously. A crew of ten flawless dancers accompanied the group adding an exciting visual effect to the electrifying show. Lasers, smoke, videos and a grand finale with flying balloons and cascading fireworks concluded the spectacle.
In addition to these major shows, we took in an exciting performance by Québec's Gypsy Sound System Orkestra and several wonderful appearances by local artists.
The festival also featured pop up shows and different performances such as a French troupe, Plasticiens Volants, who paraded a whimsical array of mythical balloon characters. Every night, the lively streets reverberated with sounds of heavy metal bands, romantic music, and pop rock from the open air neighboring stages.
The 2017 Festival d'été de Québec also featured appearances by The Who, Metallica and many others.
ORGANIZATION
The festival has been around for 50 years and runs like a well-oiled machine. Tens of coordinators manage all the logistics from the festival's nerve center at the Hilton Hotel, a room reminiscent of NASA's mission control.
The thousands of revelers we saw were well behaved, and the police, security forces and an army of volunteers skillfully managed the festival goers. Even though beer and hard alcohol were sold during performances, we never once saw an unruly crowd or    misbehaving fans. The open-air venues were well lit and equipped with numerous portable restrooms and even included fresh water filling stations.
If you are a music lover, mark your calendar for the next the Festival d'été de Québec, July 5-15, 2018. Au Revoir.