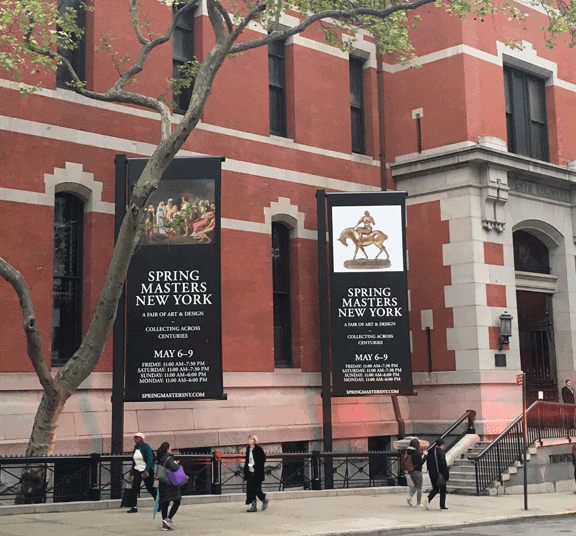 The International art and design fair, Spring Masters New York, took place at the historic
Park Avenue Armory from Friday, May 6 through Monday, May 9, 2016. The fair featured leading dealers of fine art, design, furniture and jewelry within a unique hexagonal exhibition layout, fostering a dialogue between the diverse periods, styles and mediums on view.
Spring Masters New York is an important destination on the art world calendar for a high-end, secondary market fair during the peak of the spring art season in New York.
The show focused on connoisseurship, with expertly curated and thoroughly vetted presentations by exhibitors from the U.S., Europe, and Asia.
The fair's signature Rafael Viñoly-designed hexagonal booth layout created endless
juxtapositions, highlighting the vibrant eclecticism of the range of periods and styles on view,
from an ancient mummy mask presented by Cahn International to masterworks by Matisse and Picasso displayed by Hammer Galleries to Andy Warhol's The Scream (After Munch) exhibited by Waterhouse & Dodd. Vojtech Blau featured antique and modern tapestries, Tomasso Brothers Fine Art presented 17th and 18th century white marble busts, and Didier Aaron showcased French and European masterpieces. Further adding to the diversity of the objects offered, Spring Masters is welcomed several new exhibitors, including Yufuku Gallery,
Find about future shows at www.springmastersny.com. ∆