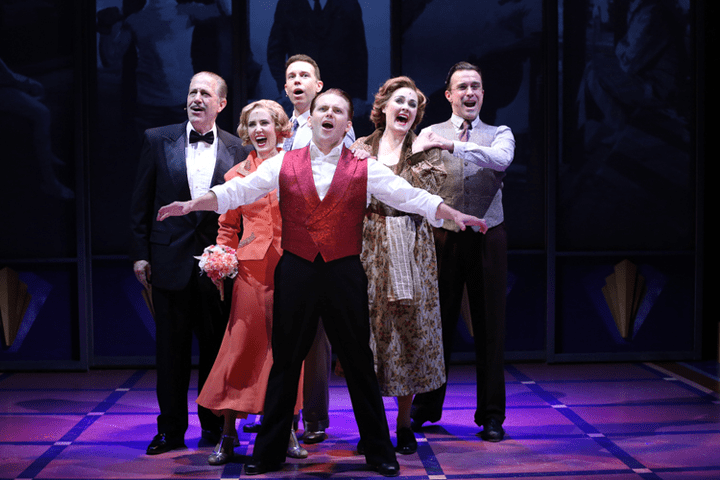 The Off Broadway musical Cagney is a well crafted, song and tap dance biography of the legendary movie star, James Cagney.
Through fast moving scenes and theatrical sketches, James Cagney's life unfolds before us from his early years as a feisty Irish kid on the streets of New York through Vaudeville, Broadway and finally Hollywood. Known as the silver screen's iconic tough guy and gangster, Cagney starred in legendary films such as The Public Enemy, The G Men and White Heat. However, his role as George M. Cohan in Yankee Doodle Dandy earned him the Academy Award and established his place as one of America's movie legends alongside the likes of Clark Gable, Charlie Chaplin, Marlon Brando, Jimmy Stewart, and Fred Astaire.
The show's star and co-creator Robert Creighton channels Cagney in body, spirit and several formidable dance sequences. A cast of five versatile actors seamlessly play multiple roles, embodying a plethora of characters from Mr. Cagney's life. The explosive tap dance routines are breathtaking and the rendition of George M. Cohan songs Give My Regards To Broadway, Grand Old Flag and Yankee Doodle Dandy are show-stopping.
The show plays at The Westside Theater, Upstairs (407 West 43rd Street, between 9th & 10th Aves. Performances are Tuesday at 7PM, Wednesday, Friday and Saturday at 8PM, with matinees Wednesday, Thursday and Saturday at 2PM, and Sunday at 3PM. Call Telecharge.com at 212-239-6200. For more information, please visit www.CagneyTheMusical.com.