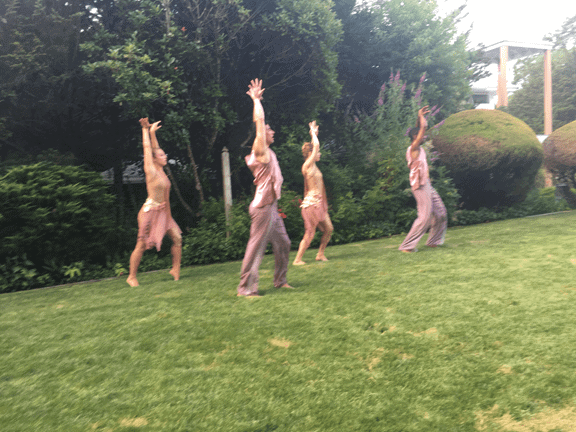 On July 16, 2016 AMANDA SELWYN DANCE THEATRE presented GREEN AFTERNOON IV, a garden dance performance and cocktail reception at the home of Architects Marcia Previti and Peter Gumpel in East Hampton, NY.
The evening began with cocktails, hors d'oeuvres, and several outdoor sitting rooms featuring performance installations, with performers dancing around the swimming pool, outdoor sculptures and in the woods. A presentation of Ms Selwyn's newest work REFUGE, followed.
REFUGE, was inspired by Francesco Clemente's art installation Encampment. The dance explores isolation, inner reflection, and the creation of sacred spaces. Selwyn translates this personal journey into a vocabulary of immediate, athletic, sensuous, and raw movement that has come to define her work. The piece includes a progressive series of solos and duets punctuated by group sections that transforms the personal experience into a shared one. The dance's intensity was magnified by the intimate setting on a manicured lawn as the enchanted audience sat only feet away from the performers.
Amanda Selwyn Dance Theatre creates original and dynamic dance theatre that raises questions, challenges social norms and values, and magnifies humanity through dance. Productions pivot around core themes and through an interplay between athletic and pedestrian motion, activate emotional expression, character, and narrative in a rich and abstract collage.
Founded in 2000, Amanda Selwyn Dance Theatre has presented over 30 productions at NYC venues including Tribeca Performing Arts Center, New York Live Arts, Dance Theatre Workshop, Ailey Citigroup Theater, Jacob's Pillow, DUMBO Dance Festival and more. They also offer arts-in-education programming through Notes in Motion Outreach Dance Theatre to children in the NYC public schools. www.amandaselwyndance.org ∆