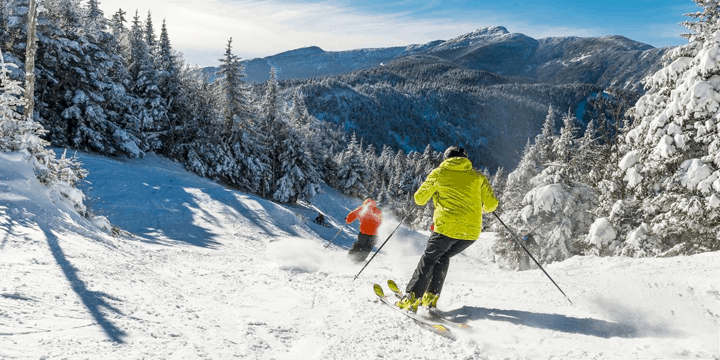 Are you ready for the ski season? Here are the main trends as published by Ski Vermont
FAMILY ACTIVITIES
Bromley Mountain Resort
Kid's fun is the focus at Bromley. Bromley has reworked their snow park for smaller statures, with a progressive flow that keeps kids jumping and spinning safely. The après options include a dedicated kid's space in the lodge, with Vew-do balance boards, movies, video games and, on some nights, special entertainment.
Jay Peak Resort
Weather-proofing is a trend Jay Peak started when they opened their Ice Haus in 2010. The arena offers public skating times, figure-skating lessons and stick-and-puck pick-up games. Jay Peak expanded the weather-proof menu in 2011 with the 60,000-square foot Pump House, an indoor waterpark. This winter they will roll out their version of a red carpet to Clips&Reels, an entertainment center that features a 142-seat movie theater along with a Clip 'n Climb facility.
Smugglers' Notch Resort
The top trend at Smugglers' Notch Resort is family togetherness. Families have always enjoyed skiing and riding together on their winter vacations at Smugglers'. Families can join craft sessions, broomball challenges, scavenger hunts, snowcat tours, story times and pool games. Most popular activities? Oohing and ahhing over the weekly torchlight parade and fireworks, family karaoke and building a sled to launch from a jump in I-Did-A-Sled.
Stowe Mountain Resort
Fulfilling the need for family fun off the slopes has been the number one trend at Stowe Mountain Resort. Stowe has recently opened several amenities in the Spruce Peak Village Center: Free ice skating on the new rink, arts and crafts for children, a wine bar for the adults and an indoor climbing center.
THE RISE OF UPHILL TRAVEL 
Bolton Valley
Bolton Valley offers over 1200 acres of backcountry. All of the terrain is easy to access by skinning up from the Nordic Center or taking the Wilderness lift. The Catamount Trail Association hosts a few days of backcountry clinics to help those new to the sport. When you are ready to test your mettle, check out the weekly uphill Skimo races and the 24 Hours of Bolton Valley backcountry ski race.
Killington Resort and Pico Mountain
Uphill Travel at both Killington and Pico continue to increase in popularity with guests choosing to reach the peaks of Bear Mountain, Snowdon, Ramshead and Pico via human vs. machine power. With designated routes for each mountain area and 24/7 access (when designed routes are open) Killington and Pico offer plenty of options regardless the time of day. If there's snow in the forecast for Tuesday or Wednesday, head to Pico for powder turns while the lifts sit idle on non-holiday Tuesdays and Wednesdays.
Magic Mountain
Magic has been a leader in "uphill" travel and they saw an increase in skinning and snowshoeing. They don't charge people for getting up the mountain and provide a free lift ride token at the top for all uphill skiers or split-boarders. Magic also offers guided backcountry tours with shuttle van pick-ups. Snowshoeing trails will also be marked this fall so snowshoers can discover trails winding through the woods to the top of the mountain and to Sunshine Corner for great views of southern Vermont.
Mount Snow Resort
Uphill access has been steadily growing over the years with the increase in companies selling and marketing touring equipment. To stay on top of this, Mount Snow offers uphill access throughout the entire resort during operating hours. Guests simply need to purchase an uphill pass or have an uphill endorsement on their season pass.
Sugarbush Resort
Uphill travel at Sugarbush became more popular over the last few seasons. The resort offers free uphill travel passes valid for skinning uphill designated routes before and after lift operating hours. Sugarbush enters its fourth year with such a policy. The resort hosts Tour De Moon several times throughout the season – a guided skin to Walt's at the Glen House at Mt. Ellen and also offers an uphill travel option for Allyn's Lodge Fireside Dining.
EDUCATIONAL PROGRAMS, FITNESS AND WEDDINGS
Mad River Glen
Mad River Glen's Naturalist Programs are becoming more popular every year. Ever wondered why there are so many snowshoe hare tracks on the slopes? Or seen the bear bites and scratches on trees and questioned the meaning behind them? Perhaps you have encountered Moose tracks and pondered how they can survive the winters. Valley visitors can learn more about these animals, mountains and forests by taking part in one of the award-winning Naturalist Programs.
Mountain Top Inn & Resort
In addition to the 60km of cross country ski and snowshoe trails, Mountain Top Inn & Resort is leading Vermont's trend as a premier 4-season wedding destination. Winter wonderland weddings are a popular as the property offers spectacular views, a gorgeous event barn, year-round activities and luxurious accommodations. Many of these weddings involve avid skiers wishing to infuse their favorite past-time into their special day.
Stratton Mountain Resort
Skiers are getting back to the basics as preferences for all-mountain skis are on the rise. Skiers want skis that are not too wide or too narrow, so they can have a pair of skis for most conditions.  Off-mountain fitness has skiers buzzing, as more athletes choose on-snow activities over the treadmill. Stratton's snowshoe tours whisk participants through winding forest trails with rewarding fireside s'mores.
MULTI MOUNTAIN SEASON PASSES
Killington Resort and Pico Mountain
Killington and Pico are two of four Vermont resorts to offer the M.A.X Pass add on for season passholders. A $329 add on gives purchasers five days access to any of 42 participating resorts nationwide.
Mount Snow Resort
More guests are looking for multi-mountain passes that offer flexibility for weekend and vacation plans. Demand for offerings such as the Peak Pass, Epic Pass, and Mountain Collective is rising. Mount Snow is part of the Peak Pass family which allows recipients access to seven mountains spanning from New Hampshire down to Pennsylvania.
Okemo Mountain Resort
Okemo is a frontrunner with simplified season pass offerings and reduced prices. Skiers and riders can choose from the Ultra Pass, Classic Pass, Midweek Pass and College Pass. All passes qualify for a M.A.X Pass add-on – five days of skiing and riding, with zero blackout days, at each of 42 other resorts across North America.
Stowe Mountain Resort
Stowe has gone Epic this year, allowing skiers and riders to go whenever they want. The Epic Pass allows unlimited, unrestricted access to Stowe Mountain Resort and 14 other western resorts.
Stratton Mountain Resort
Stratton has joined the M.A.X Pass family, giving their season pass holders the option to add five days of skiing and riding, with zero blackout days, at each of 42 other resorts across North America for just $329.
Sugarbush Resort
Sugarbush has joined the Mountain Collective, an international pass with access to 16 premier ski destinations all over the world.