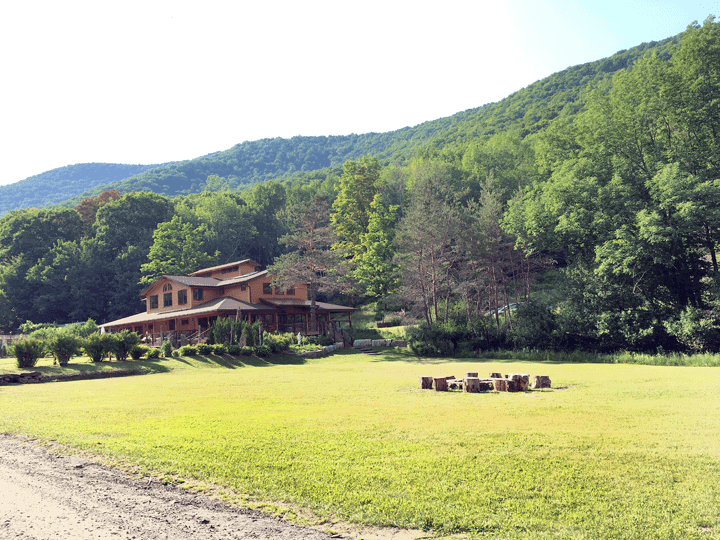 We sit in the best "lotus" position we can handle and follow the breathing and visualization instructions:
Ohoommmm — Imagine inhaling a white light
Aaaah — Hold in a red colored breath
Huuuung — Exhale a blue colored breath
This is Om-A-Hung, a breathing meditation, and part of our daily routine at the Menla Mountain Retreat in the Catskill Mountains.
We came here for a weekend to experience part of the Tibetan Rejuvenation Immersion series, a program led by the prominent Tibetan Doctor, Nida Chenagtsang, and the renowned Tibetan Scholar, Robert Thurman. The weeklong program attracted a variety of guests including practitioners and teachers of Tibetan medicine and Buddhism, frequent travelers to Far East ashrams and eager students of Tibetan philosophy. Most of the attendees in our program hailed from the U.S. and Canada, but several flew in from as far away as Goa and Bali.
Menla is located in a wooded valley surrounded by acres of the Catskills preserve, an area held sacred by the Native Americans. The grounds are beautiful and serene, with small shrines, a pond and nature trails. Menla was founded by the Tibet House under the guidance of H.H the Dalai Lama to promote authentic Tibetan healing and teachings to the West. It offers individual and group retreats with yoga and meditation classes, Tibetan inspired spa treatments and gourmet cuisine.
Accommodations range from large suites to shared housing in several buildings throughout the grounds. We stayed in the Kathmandu House in a spacious deluxe suite with a king bed and sitting room appointed with Tibetan accents and organic linens and towels.
The most imposing building on the property is the Mahasukha (meaning Great Bliss) Spa, designed by New York City architect Duke Beeson under the guidance of award winning designer Clodagh of Clodagh Design. Tibetan master artist Rabkar Wangchuk created the unique handcrafted details that adorn the interiors.
The spa offers a variety of Western, Ayurvedic and ancient Tibetan treatments, all customized by therapists to your individual needs. Make sure to experience the spa's signature massage, the Tibetan KuNye Massage, a soothing 90 or 120 minute treatment performed with herbal oils, heat, acupressure and exfoliation with chickpea powder. This blissful massage is said to aid in stress reduction, balance and well-being. Additional Tibetan therapies include YukCho — tapping with herbal or wooden substances to increase energy flow, and MeBum — applying suction cups to the body's chakra points to detoxify and stimulate circulation. Other traditional massages are also offered.
We also booked private consultations with Dr. Nida and received Tibetan treatments, herbs, and dietary instructions. Tibetan medicine is an ancient art that integrates Chinese, Indian, Persian and Greek modalities. The diagnosis is primarily based on pulse and urine analysis. Our prescription for rejuvenation: Walk an hour a day, meditate, substitute dinner with a nutritious broth, and take specific pills made from herbs and high altitude Tibetan flowers.
One of the highlights of our stay at Menla was the cuisine. We enjoyed three daily meals served buffet style in the dining room or on the outdoor veranda overlooking a mountain range and a pond. The majority of the dishes were vegetarian. Everything was creatively prepared, beautifully presented and delicious. The menu was always posted on a blackboard and kitchen staffers were available to explain the ingredients. We enjoyed  salads with mustard agave and curried raisin dressing, roasted beets with sunflower feta and smoky nuts, barbecued beans, zucchini noodles with marinara sauce, and cauliflower with balsamic roasted pearl onions. Desserts, fruit and herbal teas completed the meals.
The staff at Menla is friendly and dedicated, and enhance the overall experience of the retreat.
In addition to the Tibetan Rejuvenation Immersion package, Menla offers Rest & Relaxation Cleanses, R&R Getaway Weekends, R&R Hiking Getaways, R&R Healing getaways and customized group programs.call 845-688-6897 or visit www.menla.us