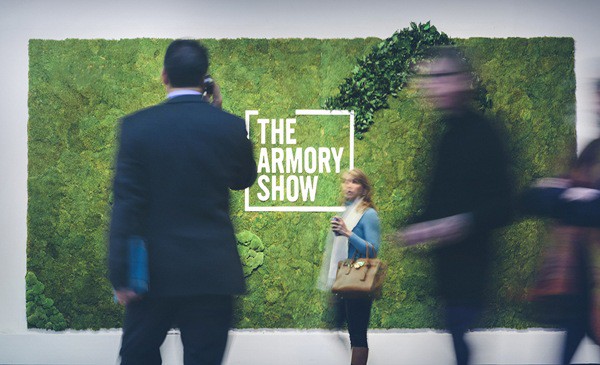 The Armory Show, New York's premier international art fair, took place at Manhattan's Piers 92 & 94 (12th Avenue at 55th Street) from March 3 thru 6. The Armory Show combined high quality modern and contemporary art connecting the world's leading galleries with international collectors, curators and art professionals in the capital of the art world.
The Show hosted over 200 galleries from 36 countries worldwide – the fair's largest international representation to date. The galleries represented at The Armory Show 2016 have locations in: Argentina, Austria, Belgium, Brazil, Canada, China, Colombia, Cuba, Denmark, Ethiopia, Finland, France, Germany, Greece, Iceland, India, Israel, Italy, Ivory Coast, Japan, Kenya, Luxembourg, Mexico, Netherlands, Nigeria, Norway, Portugal, Saudi Arabia, South Africa, South Korea, Spain, Sweden, Switzerland, Turkey, the United Kingdom, and the United States.
The show drew a number of entertainment figures, including: Drew Barrymore, David Byrne, Anderson Cooper, Sofia Coppola, Matt Dillon, Neil Patrick Harris, Dustin Hoffman, Jon Bon Jovi, George Lucas, James Marsden, Steve Martin, and Michael Stipe.
The 22nd edition of The Armory Show delivered excellent sales and record visitor numbers, in addition to an outstanding critical response.
www.thearmoryshow.com
.