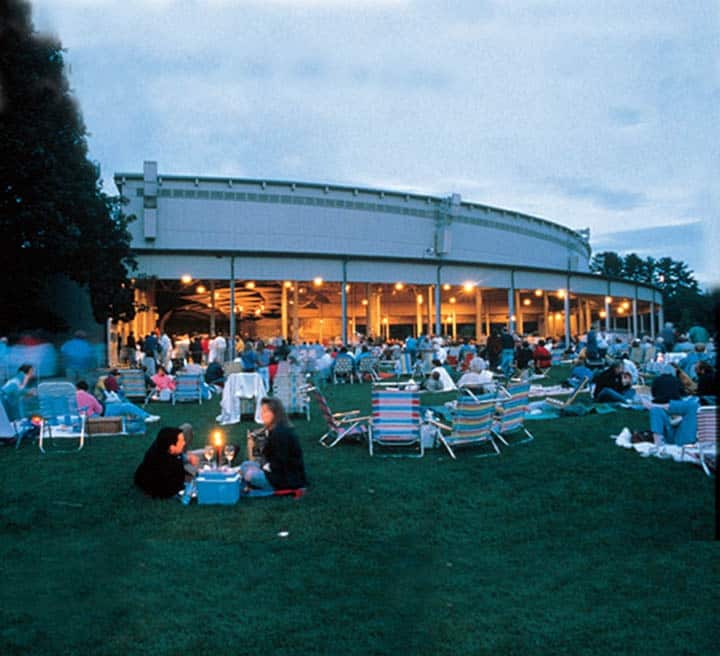 The 2017 Tanglewood season, June 18-Labor Day Weekend, offers visitors a lineup of performances and musical activities for music lovers of every age. Highlights include 10 programs led by Boston Symphony Orchestra Music Director Andris Nelsons and new initiatives designed to give patrons a wide spectrum of musical, entertainment, and educational activities. Mr. Nelsons will lead both the opening and closing BSO concerts, Mahler's Symphony No. 2, Resurrection, and Beethoven Symphony No. 9; an opera gala with Kristine Opolais and Dmitri Hvorostovsky performing excerpts from Simon Boccanegra, La traviata, and Eugene Onegin, and the first-ever BSO and festival concert performance of the complete Das Rheingold, a tour de force  milestone in the history of the festival. Mr. Nelsons will also conduct the Boston Pops Orchestra for the first time, sharing the podium for Film Night with John Williams.
The 2017 Tanglewood season will launch new activities during pre- and post-concert hours around the BSO's weekend performances. Summer Sunday afternoons at Tanglewood will offer visitors a chance to engage in entertaining and educational activities scheduled to take place before and after Sunday-afternoon BSO concerts. These programs are expected to include such activities as lectures and musical demonstrations for all ages, sing-alongs, food and wine tastings, face painting, yoga and Qigong, and games for children and families. Also, in a unique and first-ever endeavor between Tanglewood and Mass Audubon, Tanglewood Takes Flight:  A Celebration of Birds and Music with Mass Audubon will bring a new dimension to the activity of bird walks by partnering the walks with live performances, including music from Messiaen's Catalogue of the Birds, a monumental series of 13 piano pieces portraying the birds of Europe, to be performed by Pierre-Laurent Aimard and Piano Fellows of the Tanglewood Music Center at both Pleasant Valley Wildlife Sanctuary and Tanglewood (7/27-30).
Along with these new programs, visitors to Tanglewood in 2017 will have many opportunities to enjoy the treasured traditions of the festival, including weekly concerts with the Boston Symphony Orchestra and performances by the Boston Pops and Tanglewood Music Center orchestras; a lineup of extraordinary BSO guest artists, featuring some of the world's most cherished musicians widely known to Tanglewood audiences, as well as new talents making their first appearances at the festival;   chamber music and recital programs spotlighting today's most sought-after artists in the intimate atmosphere of Ozawa Hall; weekly performances by the young Fellows of the Tanglewood Music Center, the BSO's prestigious summer music academy, including the 2017 Festival of Contemporary Music; and an annual Popular Artist series.
Tanglewood continues to offer many free and discounted ticket and educational programs, including free tickets for patrons 17 and younger and $20 tickets for attendees under 40, as well as a variety of special programs for children, including Kids' Corner, Watch and Play, and the annual Family Concert, this year to take place July 22.  Tanglewood also offers a  wide variety of café and fine dining options, and free tours of Tanglewood's expansive grounds and famous performance spaces.
One of the premier summer music festivals in the world and summer home of the Boston Symphony Orchestra since 1937, Tanglewood is located in the beautiful Berkshire Hills, between Stockbridge and Lenox, Massachusetts.
Tickets for the 2017 Tanglewood, season, $12-$124, go on sale to the general public on Sunday, January 29, at 10 a.m. Tickets are available through Tanglewood's website, www.tanglewood.org, through SymphonyCharge at 888-266-1200, and at the Symphony Hall Box Office at 301 Massachusetts Avenue, Boston MA.