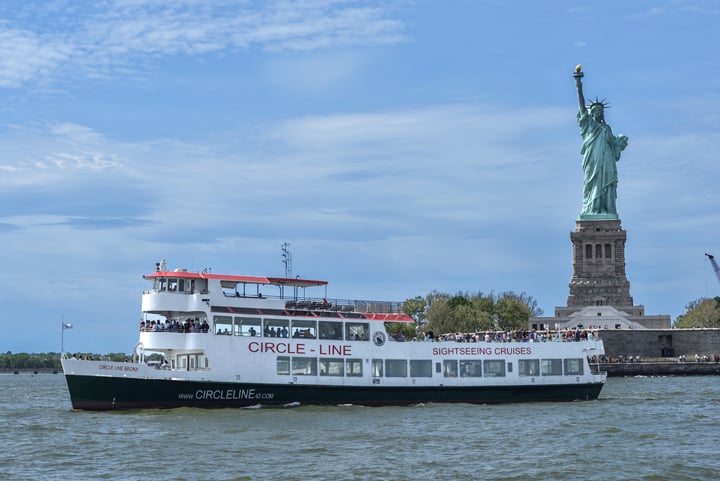 The iconic Circle Line Sightseeing Cruises has hosted over 72 million passengers along the New York City waterfront since 1945.
Today the line is reinventing itself with new modern ships (three are coming this spring), new rides (check out their speedboat, The Beast) and special event itineraries (fireworks, Fleet Week, etc.).
Recently, we booked the Landmarks itinerary, a sail along the Hudson and East Rivers, under the City's landmark bridges and next to the Statue of Liberty. It was very enjoyable and educational and we learned the following facts from the knowledgeable onboard guide:
Pier numbers and their cross streets locations.
Don't know where Pier 92 is? Deduct 40 from the pier number and find the cross street. So, Pier 92 is at 52nd It doesn't always work as Pier 40 is not at 0 Street but at Houston. South of Houston? Just ask Google.
Names of the East River Bridges.
Not sure which bridge you are looking at? Just remember BMW (the car). The letters stand for Brooklyn, Manhattan and Williamsburg bridges, with the Brooklyn Bridge being the most Southern one.

Brooklyn Bridge © http://dezsantana.com

The FDR Drive and East River parks are on British soil.
They are on landfill of WWII rubble from the Nazi bombings of London and Bristol. The debris, brought as ballast on empty supply ships returning from Great Britain, was dumped in the river to create more land.
How tall is the Freedom Tower?
The Freedom Tower, officially named One World Trade Center, is the tallest building in America, standing at 1776 ft high (to the tip of its mast). 1776? Freedom? Independence Day? Now you'll remember the height.

Freedom Tower © http://dezsantana.com

Is the Holland Tunnel named for the country of Holland?
The Holland Tunnel was the first ever tunnel built under the NYC waters. It was named after its chief engineer, Mr. Clifford Milburn Holland who died at the age of 41 before the tunnel opened in 1927. He died of a heart attack during a nervous breakdown caused by the long, stressful hours and work conditions in the compressed air tunnel.
What's inside the Statue of Liberty?
The statue, a symbol of emigration and welcoming to America, was created by sculptor Frédéric Auguste Bartholdi. The outside is made of thin copper plates that became green due to marine air oxidation. The copper sheets are supported by an internal steel structure designed by French engineer Gustave Eiffel, who later built its namesake iconic tower in Paris. Two icons, same engineer.
Circle Line Sightseeing Cruises offers several cruise itineraries every day and is located on the Hudson River at West 42nd Street.