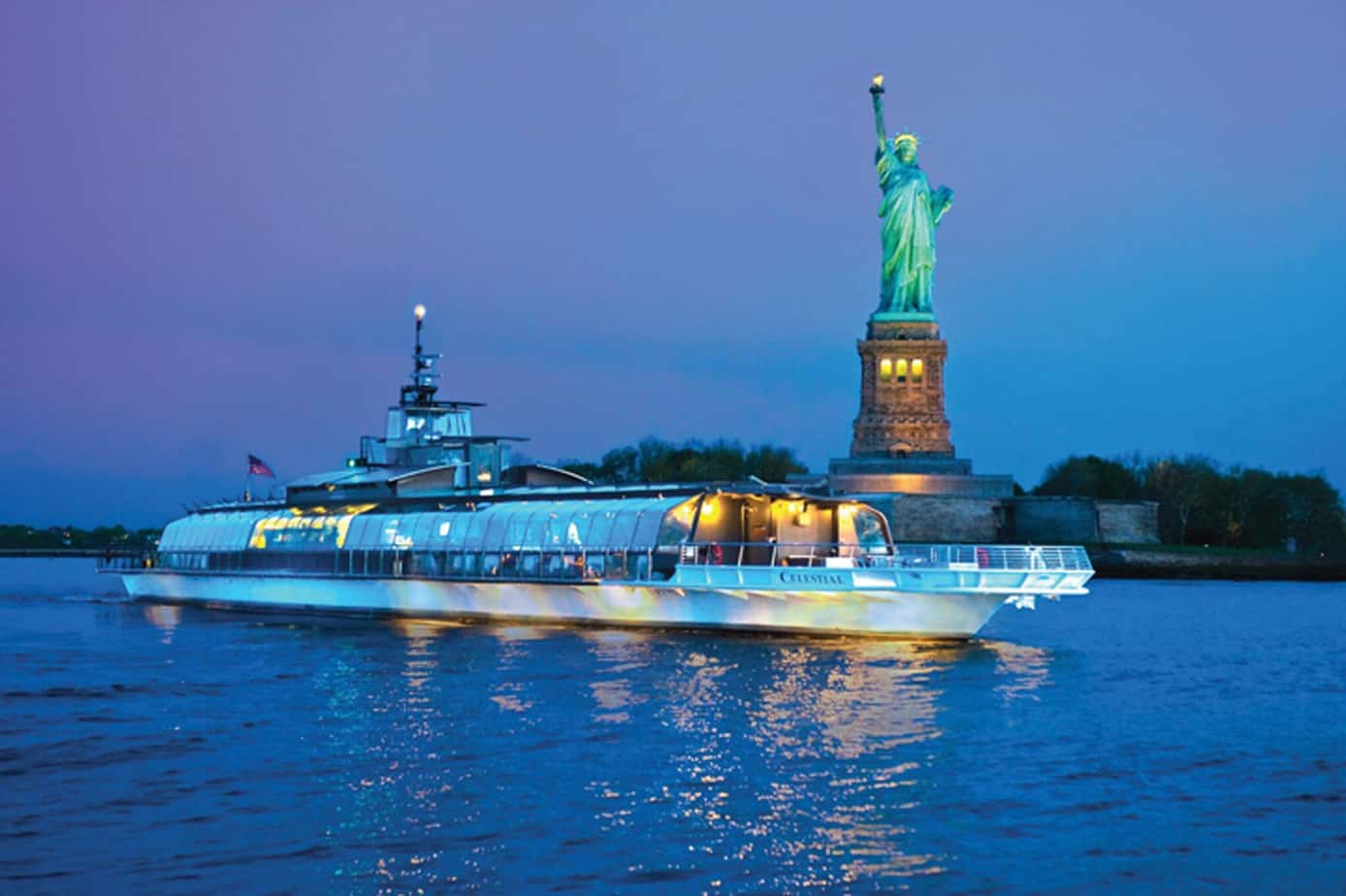 We celebrated the beginning of summer with a dinner cruise on the beautiful Bateaux New York, an elegant, glass enclosed ship that sails year round from the Chelsea Piers along the Hudson and East Rivers, and to the Statue of Liberty.
The interior of the Bateaux is reminiscent of an upscale restaurant with white-linen table cloths and sparkling glasses, overlooking the glass walls.
The ship features two spacious dining rooms, a dance floor and two outdoor decks where guests gather in between courses to sip drinks and take selfies with Manhattan's skyline. Passengers are tourists from all over the world, as well as local travelers who celebrate special occasions or just want to enjoy a relaxing dinner cruise.
The fixed price includes a three-course selection from an extended menu. We particularly enjoyed the Miso Glazed Cod served with a pea & wasabi mash, oyster mushrooms, baby carrots, sugar snap peas and soy & sweet mirin sauce. Another delicious entrée was the Braised Beef Short Rib, a flavorful dish served with an Idaho potato & horseradish mash, baby carrots, pearl onions, English peas and a Cabernet Sauvignon sauce.
The menu also offers Shrimp Cocktails, a Seafood Tower and Wagyu strip loin, for an additional charge. There is a drinks package featuring selected cocktails and wines as well as after dinner cordials and specialty coffee.
The main star of the cruise however, is the scenery. We passed by the city's iconic skyscrapers, the glittering Freedom Tower, riverfront developments, the Brooklyn, Manhattan and Williamsburg bridges, Governor's Island and climaxing with the Statue of Liberty.
As we slowly approached the majestic statue, the band played a goose-bumping rendition of "God Bless America." As tourists clicked their cameras, we stood silently, contemplating the deep meaning of this American Symbol.
As the ship made its way back to port, we joined other guests on the dance floor, swaying to the rhythm of the live band.
The Bateaux New York also offers lunch and dinner cruises as well as special sailings on national holidays. For reservations go to www.BateauxNewYork.com. ∆