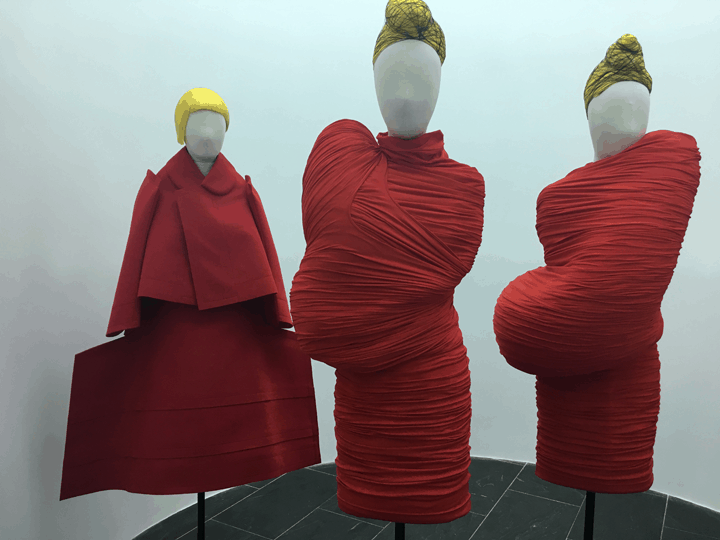 The Metropolitan Museum of Art's Costume Institute spring 2017 exhibition, Rei Kawakubo/Comme des Garçons: Art of the In-Between, is on view from May 4 through September 4. It examines Kawakubo's fascination with the space between boundaries. This in-between space is revealed in Kawakubo's work as an aesthetic sensibility, establishing an unsettling zone of oscillating visual ambiguity that challenges conventional notions of beauty, good taste, and fashionability. Not a traditional retrospective, this thematic exhibition will be The Costume Institute's first monographic show on a living designer since the Yves Saint Laurent exhibition in 1983.
Exhibition Overview
The exhibition features approximately 150 examples of Kawakubo's womenswear designs for Comme des Garçons, dating from the early 1980s to her most recent collection.
Objects are organized into nine aesthetic expressions of  Kawakubo's work: Absence/Presence, Design/Not Design, Fashion/Anti-Fashion, Model/Multiple, High/Low, Then/Now, Self/Other, Object/Subject, and Clothes/Not Clothes. Kawakubo breaks down the imaginary walls between these dualisms, exposing their artificiality and arbitrariness.
In celebration of the opening, The Met's Costume Institute Benefit, also known as The Met Gala, took place on Monday, May 1, 2017.  The evening's co-chairs were Tom Brady, Gisele Bundchen, Katy Perry, Pharrell Williams, and Anna Wintour.  Rei Kawakubo and Ambassador Caroline Kennedy served as Honorary Chairs.  The event is The Costume Institute's main source of annual funding for exhibitions, publications, acquisitions, and capital improvements.
The exhibition and gala was featured on the Museum's website, as well as on Facebook, Instagram, and Twitter via #MetKawakubo, #CostumeInstitute, and #MetGala.