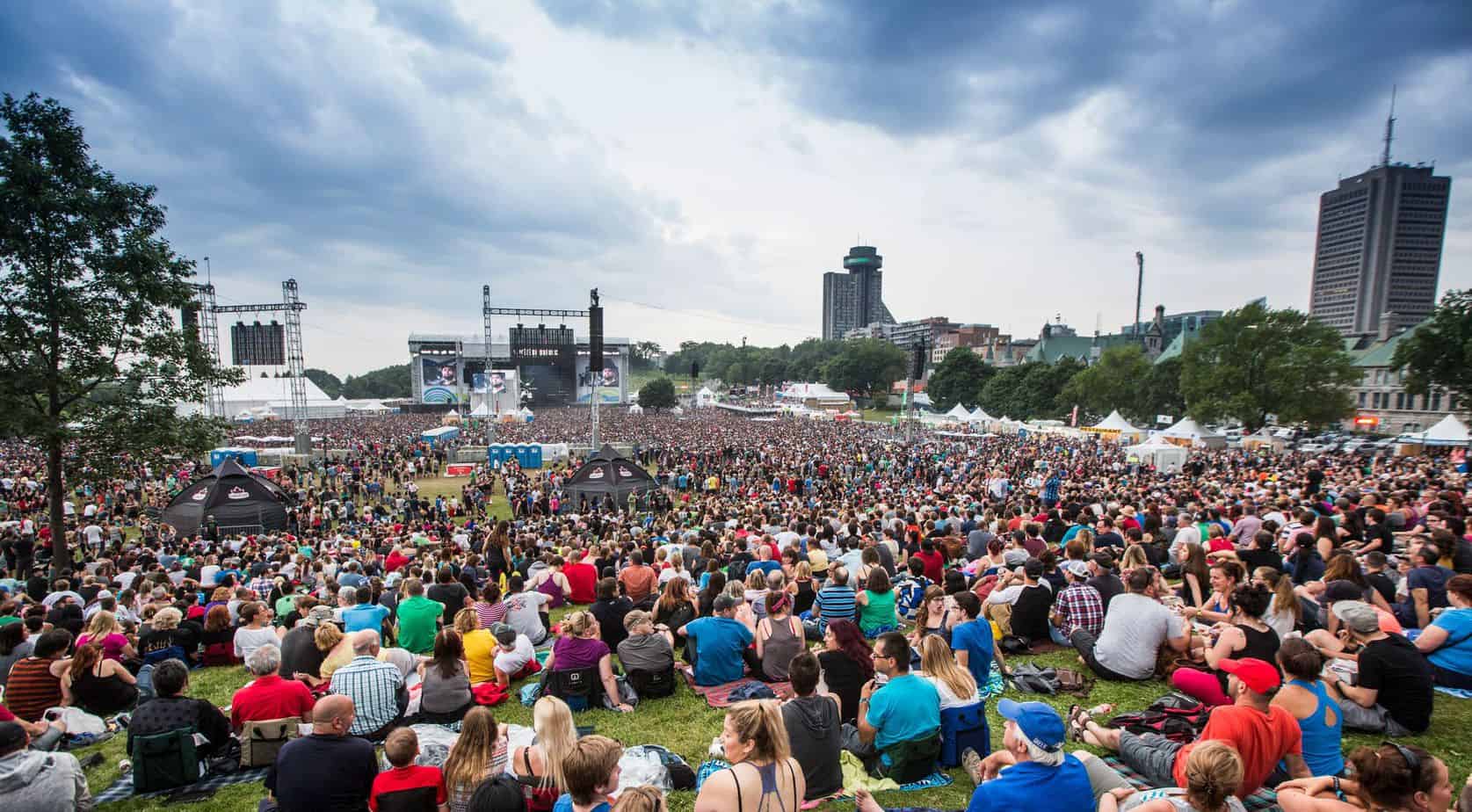 Québec City celebrates summer with the spectacular Festival d'été de Québec (FEQ). The 2017 Festival, from July 6 thru 16, marks its 50th anniversary and it coincides with Canada's 150th birthday. The Festival — Canada's largest outdoor music event — will feature performances from hip-hop shows to rock and pop megastars with a roster of some 1,000 artists in 300 performances at 10 indoor and outdoor venues.
Some highlights include the iconic 1970s rock band The Who, cartoon's band Gorillaz, along with pop star Nick Jonas, and Canadian punk rock duo Death from Above 1979.
OUTDOOR PROGRAMMING HIGHLIGHTS
Bell Stage on the Plains of Abraham
The Bell Stage is the Festival's main venue, located on the Plains of Abraham, an historic battlefield park overlooking the St. Lawrence River. The 2017 edition opens on July 6 with Quebec darling Isabelle Boulay celebrating both 25 years of career and her 45th birthday in a special event concert on the Festival's largest stage. On July 7, Quebec's new hip-hop sensation and FEQ 2016 Prize-winners the Dead Obies will open an evening that culminates with a performance by 'prince of hip-hop' and multiple Grammy Award-winner Kendrick Lamar. On July 8, the Festival will host pop rock diva P!NK in one of her very few 2017 performances. The first weekend wraps up with superstar Nick Jonas (July 9) followed by the 1990s phenomenon the Backstreet Boys.
July 10 will be a country-pop night, starting with the music of Kelsea Ballerini and ten-time Academy of Country Music Award-winners Lady Antebellum. Opening for them is Quebec singer Gabrielle Shonk. Then on July 11, French Canadian artists Lisa LeBlanc and Les Cowboys Fringants bring their folk-inspired notes to the main stage. On July 12, Ontario electronic duo DVBBS will precede Trap & B hip hopper Fetty Wap Featuring Monty. Australian DJ and record producer Flume will follow with his atmospheric electro music. Rock giants The Who (July 13) visit the Festival on their only stop in Canada and the first date of their North American farewell tour.
Headlining the closing weekend, Metallica (July 14) brings back its classic heavy metal to the Plains of Abraham. Canadian metal band Voivod will warm up the stage for them. Britain's alternative 'virtual quartet' Gorillaz will offer its first performance in Quebec City on July 15. The closing night of the Festival belongs to the English progressive rock band Muse (July 16), with Los Angeles' Mondo Cozmo (Josh Ostrander) up first to open the set.
Loto-Québec Stage at Parc de la Francophonie
The Parc de la Francophonie is a venue known for its magical encounters between artists and audiences. This year, one highly-anticipated performance will be the folk-rock veteran Melissa Etheridge (July 6) on the Festival's opening weekend, with iconic English band The Zombies performing first. Indie rock band Wolf Parade will hit the stage on July 7 and San Diego quartet Pierce the Veil will strike its pop punk chords on July 8, preceded by post-hardcore rock band Crown the Empire.
French music will have another big night on July 9 with the band La Chicane, a late 1990s Quebec favorite reuniting for its 20th anniversary, followed by the 1980s French pop music icon, Michel Fugain and his Big Bazar.
The evening of July 10 will present an energy-packed performance by the Arkells, one of the most remarkable bands of the Canadian alternative rock scene, followed by the global phenomenon of hit-maker DNCE (July 10), led by Joe Jonas. Next is the chart-topping American hip-hop trio Migos (July 11), expected to bring its 'dabbing' to the Loto-Québec stage. Following is Bobby Bazzini (July 12), interpreter of the famous C'est la vie song. He will be preceded on stage by Quebec's version of The Voice, Matt Holubowski. More than 30 years after releasing The Safety Dance—which became an international hit in 1983—the Montreal band Men Without Hats will grace the stage before another more contemporary Quebec band, Les Trois Accords, with their absurd humor and effective rock melodies. Canadian chart success The Strumbellas take up the stage on July 14 with their 'folk-pop grass' and Quebec-based indie pop group Groenland will be the opening act, while American bands The Devil Wears Prada and Of Mice & Men will offer a metalcore evening on July 15.
Hydro-Québec Stage at Place D'Youville – Free Concerts
Place d'Youville celebrates an important milestone this year as the place where FEQ started 50 years ago. One of the most eagerly-awaited free performances this year at this venue will be the smooth jazz/Latin music of Pink Martini (July 9) singing in several languages and with a dozen musicians. Other artists feature Canadian Barr Brothers and Malian Bassekou Kouyaté & Amy Sacko (July 6), who will meet on stage to offer a concept show mixing folk with world music and blues. Ghanian vocalist Pat Thomas & Kwashibu Area Band (July 8) are next with their highlife music. Following is the Chicano rock of Los Lonely Boys (July 9), and reggae rhythms with Jo Mersa Marley and Jesse Royal (July 13).
Free concerts by French speaking artists include blues folk singer-songwriter Bernard Adamus (July 7), crooner Michel Louvain and his Guests (July 12), and a favorite of the local electro rock music scene, Yann Perreau (July 15). Other notable guests from Francophonie countries include the Afro-beat Malian duo Amadou et Mariam (July 14) and France's Ben L'Oncle Soul (July 16).
FIBE Stage at Cœur du FEQ (Heart of FEQ) – Free Concerts
Located in the Coeur du FEQ (Place de l'Assemblée-Nationale), this outdoor stage presents free local and international music discoveries during happy hour. It will feature rising young artists such as The Wooden Sky, The Beaches, The Dirty Nil and many other performers. Cœur du FEQ is the perfect place to see what's happening during the Festival, meet up for drinks with friends, grab a bite, or just enjoy live music in a cool setting.
INDOOR PROGRAMMING HIGHLIGHTS
The Festival's popular indoor shows attract growing audiences in the downtown area of Québec City every year.
Impérial Bell
The landmark Impérial Bell concert hall rolls out an exciting schedule of artists that challenges the boundaries of any one musical category. DJ Shadow (July 6) will open the lineup with his experimental instrumental hip-hop. The following day, one of the co-founders of Afro-beat music, Nigerian drummer Tony Allen (July 7) presents a tribute to jazz master Art Blakey. Toronto band Death from Above 1979 (July 9) unfolds with a high-energy mix of punk, rock and dance music. The night of July 10 features local singer-songwriter, Fred Fortin, followed by Saratoga Spring's electronic rock duo Phantogram (July 11), Canadian alternative rock band the Arkells (July 11), the heavy rock punk pop of MxPx (July 13), and a blend of indie pop and folk by Andy Shauf (July 15).
District St-Joseph and L'Anti
To keep on celebrating after the shows, the District opens its doors each night from 10 p.m. to 11:30 p.m. for more live music, dancing, and to discover an eclectic mix of new talent. L'Anti Bar & Spectacles showcases emerging or alternative music in two performances each night; the first show at 5 p.m. and the second at 10 p.m., featuring artists such as guitarist Yonatan Gat (July 16), 1970s French Canadian rock band Aut'Chose (July 10) and may more.
FESTIVAL PASSES AND INFORMATION
Passes can be purchased online at www.infofestival.com and by phone at 1-855-800-3347 (toll-free), with a limit of eight passes per transaction. They will also be available at the box office during the Festival, pending availability. Children up to 11 years old accompanied by an adult may enter for FREE. The Festival pass is currently on sale, for $95 CAN (less than $75 U.S.).