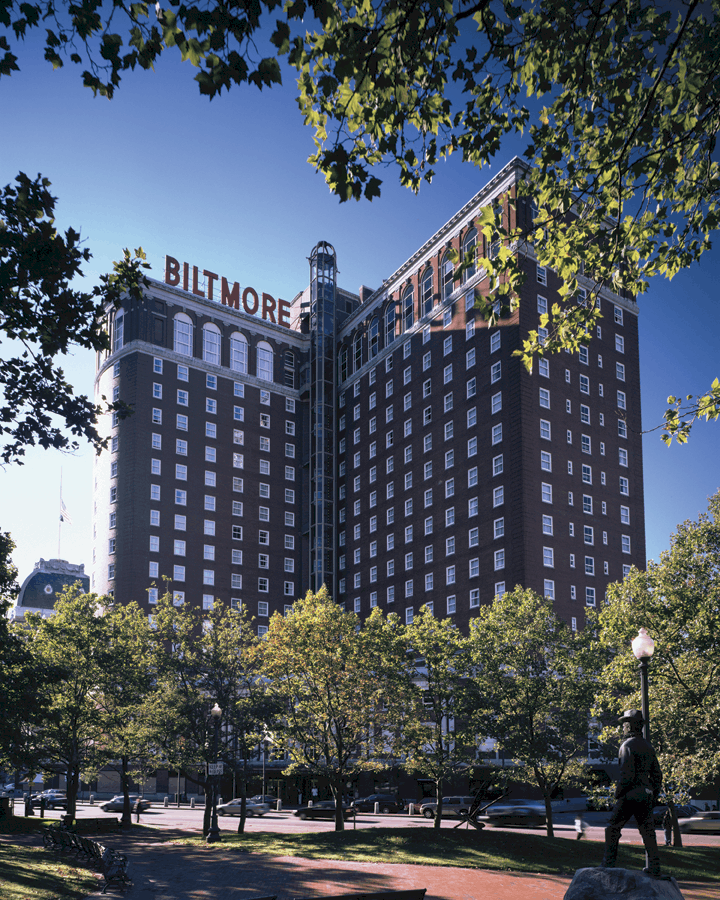 The Providence Biltmore is an historic hotel located in the heart of downtown Providence, Rhode Island.
When it opened in 1922 the hotel quickly became the social hub of the city. Its Garden Room swung to the sounds of Benny Goodman and Jimmy Dorsey orchestras, and its dance floor was once turned into an aquarium for a performance by Esther Williams.
The Biltmore has completed a multi-million dollar renovation that brought back its authentic character while adding contemporary amenities.
The 294 guest rooms and corridors have been decorated with a rich color palette, luxurious dark wood finishes and unique furnishings including custom made king size beds in every room and flat screen TVs.
Take some time and explore the hotel's soaring lobby and mezzanine, its legendary ballroom and the stunning rooftop spaces overlooking the city.
Make sure to experience The Spa, the city's only on-site hotel spa, offering an eclectic array of cross-cultural therapies including massages, facials and salon services. Try their Aromatherapy Signature Massage, a blissful combination of deep tissue and Swedish techniques.
VISIT PROVIDENCE
The hotel's central location is ideal for exploring Providence, a city known for the largest concentration of registered historic landmarks in the country. Some of the attractions include immaculately preserved Colonial, Greek Revival, and Victorian houses, the Brown University campus, the Rhode Island School of Design (RISD), and the picturesque waterfront.
Don't miss the Rhode Island School of Design Museum, a repository of over 90,000 objects from antiquity to our times, including a fine collection of impressionist art.
Stop by the charming Arcade, the first shopping mall in the nation, and browse the eclectic shops and galleries.
For a different vantage point of the city and an historical perspective, take a narrated boat tour with the Providence River Boat Company. They offer day, sunset and night cruises through the downtown area and beyond.
From May through November, the Providence River becomes the center stage for the city's signature event, WaterFire — an installation of over 100 bonfires that blaze above the water in special cauldrons. (Check dates at www.waterfire.org).
The culinary scene in Providence is bustling with trendy new restaurants along with well established ones. Treat yourself to a festive seafood dinner at the famous Hemenway's, enjoy the creative cuisine at the hip Circe restaurant or try McCormick & Schmick in the hotel's lobby.
For more information about the town of Providence visit www.goprovidence.com, and for info or reservations at the Biltmore hotel, visit www.providencebiltmore.com.