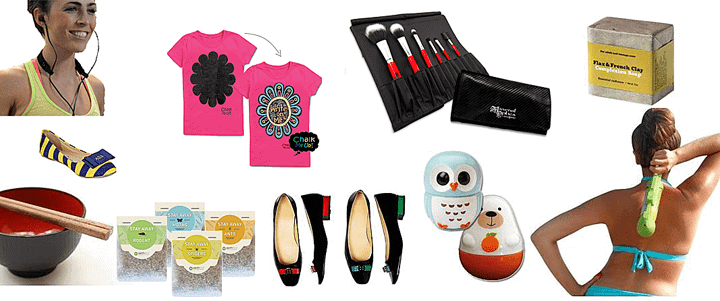 by Nava and Michael Raviv
Consumer Product Events has recently presented to the press several entrepreneurs and the products they've created. Here is a summary of the beauty, fashion, accessories and home products introduced.
BrushGuard – A line of products to clean and maintain make-up brushes including: The Brush Guard, The Brush Defender, The Brush Guard Cleaning Kit, and the Squeaky Clean Brush Shampoo.
Bud Straps – A clever accessory to hold earbuds around the neck for a run, ride, walk or while hanging out.  They prevent cord tangles, and help protect you from losing the wired earbuds.
Burn Cream MD– A doctor-developed burn cream containing the highest percentage of pain-relieving Lidocaine and a blend of natural ingredients such as Arnica Montana, Vitamin E, Aloe Vera and Chamomile.
Chalk Me Up – is a line of t-shirts that can be drawn on with Crayola chalks. Each shirt has a silk-screened "blackboard" where you can draw, and erase anything. Great for kids.
Chopsticks Master™ – The Chopsticks Master™ is a tool that shapes exotic woods into customized, quality chopsticks. Make your own chopsticks
earthkind® – is a natural line of products designed to prevent moth, spiders, rodents and other house critters.
FM Brush – The FM Brush Company, established in 1929 produces artist, cosmetic, craft, hobby and custom-made brushes
LillyBee – A cheerful line of flip flops, flats and welly rain boots in college team and sorority club colors
LipZu – is a collection of animal-shaped lip balms developed by a 10-year old kid-preneur. The balms are 95% organic, 100% natural, paraben and petroleum-free, packed with vitamin E, shea butter and jojoba oil.
Laguna Blue – is a line of luxurious microfiber towels designed to resist the growth of bacteria and mold.
My Cabana Boy – is a tool designed to apply spray sunscreens to all the hard-to-reach areas of the body.
ProEnergy Towels – is a disposable towel infused with smelling salts and essential to provide a bust of energy/
SallyAnder – is a lone of olive oil-based, pure, edible-ingredient soaps without parabens, artificial or synthetic anything.
ShoeCandy by Kara Mac – is a line of classic, high-end patent leather and velvet flats, Betty boots, pumps and sandals that can easily be embellished with a variety of heel and toe treatments. ∆