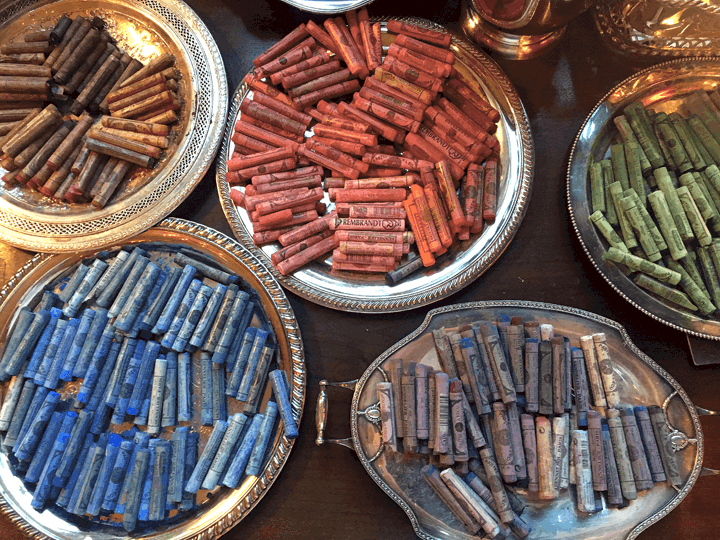 Art Spirit Foundation Honors Pastel Society of America President Jimmy Wright
On September 16, Dianne Bernhard and Art Spirit Foundation hosted a private salon at the National Arts Club in Manhattan to honor Jimmy Wright, the President of the Pastel Society of America. The event celebrated the art of pastels and Mr. Wright's many years of dedication to the advancement and promotion of the medium of pastels.
Guests included Brian Bailey and Susan Story, the winners of the Pastel Society of America's 45th Annual Exhibition Awards. Baily received the Art Spirit Foundation Dianne B. Bernhard Gold Metal Award, while Story won the Herman Margulies Award for Excellence.
Additional remarks were made by Pierre-Yann Guidetti, the CEO and Co-Owner of Savior-Faire, on behalf of Sennelier Pastels.
ABOUT DIANNE BERNHARD: Dianne B. Bernhard lives art in the tradition of Robert Henri, an American painter with a philosophy that art can be a powerful voice for impacting anything. Art is life, and life is art: they can be one in the same providing a joyous experience of the universe. Dianne is an accomplished painter, teacher, arts advocate and devoted patron. Her background as an art educator inspired her to establish the Art Spirit Foundation, an institution committed to the work of living artists. Through Art Spirit's programs, monetary awards, medals, publishing, and films she continues to advocate the arts, nurture the renaissance of the pastel medium, as well as create awareness that the rewards of great art should be attained during the life of the artist.
Dianne recently served as President of The National Arts Club, and its Director of Fine Arts. She currently serves as the First Vice President of The Pastel Society of America.
ABOUT ART SPIRIT FOUNDATION: For more than twenty-five years, Art Spirit Foundation has been leading advocacy for the medium of pastels through awards and patronage of pastel artists. Art Spirit Foundation was created by Dianne Bernhard to promote the arts, illustrate how art enhances the lives of all people, and provide insight into art as a life-changing force. Art Spirit reminds us of the importance art plays in the evolution of humanity through the support and nurturing of accomplished living artists. The mission of Art Spirit is to enrich lives through art. www.artspiritfoundation.org.