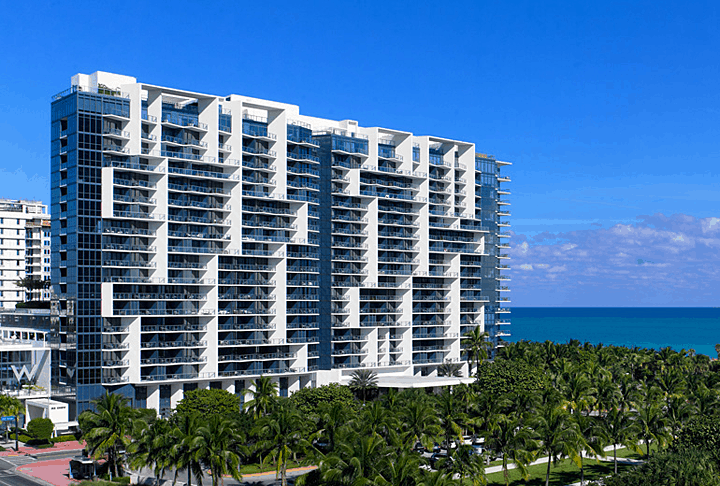 Just mention the name South Beach and images of white sand beaches, beautiful people, and celebrity-studded nights come to mind. One of the best places to stay is the W South Beach Hotel, on Collins Avenue, a few blocks North of the popular Lincoln Road.
As you drive up to the oceanfront resort you'll be greeted by an impressive building overlooking the sea. Its façade is reminiscent of a modern painting with a grid of white walls, glass windows and terraces.
The lobby, contemporary and warm, is several stories high and appointed with leather sofas, marble accents and original art from the hotel's $40 million collection. Pieces by Warhol, Schnabel, and Basquiat, to name a few, are proudly displayed throughout the public areas. The sprawling lobby is called the LIVING ROOM, a place where you can relax with a drink, sip an espresso, munch on bar fare or engage in the popular pastime: people watching and texting.
Accommodations range from SPLENDID studios (about $500 per night) to an amazing E-WOW suite (about $20,000 per night). Everything has a special name at the W.
We stayed in a SENSATIONAL suite, a smartly decorated one-bedroom pad overlooking the pool and beach. It featured a spacious living room with sleek white furniture, a fully equipped kitchen with center isles and even a washer and drier.
The E-WOW suite is a newly redesigned, 2,960-SF, three bedroom apartment with a large living room and outdoor terraces with 180-degree views of the ocean and Miami skyline. The suite is furnished with a custom $80,000 sectional sofa, leather lounge chairs and a glossy lacquer dining table. Accents of black marble, glass, and textured wallpaper complete the decor.
The hotel offers a plethora of amenities and activities for couples, families, business travelers and even pets.
A DAY AT THE HOTEL
The W has several personalities that change throughout the day:
Mornings are part business, part leisure, as smartly dressed men and women, along with early-rising vacationers, start their day at THE DUTCH restaurant. Join them for a lavish buffet or a la carte breakfast served indoors or outdoors overlooking the meticulously landscaped gardens.
Mid-morning, the atmosphere changes to all leisure, as guests relax on the beach, called SAND, and poolside — WET. Stake your spot at a complimentary chaise on the breezy beach, rent an umbrella, beach cabana or daybed and enjoy your day in the sun. Kids of all ages will be delighted by the array of complimentary beach toys at their disposal. If you prefer the tranquility of a swimming pool, settle on a padded beach chaise surrounded by palm trees and lush vegetation. Unwind with an organic cold-pressed juice, a cocktail or casual fare from the WET Bar and Grille. As you chill out with a book or just listen to the piped-in music, pool attendants pass refreshing towelettes, crisp apples, and infused ice water.
After dusk, it's time for dinner and party. The W attracts the beautiful people of swanky South Beach who join hotel guests for drinks and chats at the LIVING ROOM Bar. Couples head for an intimate interlude at GROVE, a serene garden, landscaped with winding paths, flowering vegetation, lanterns and decorative objects.
Dinner is offered at two venues, THE DUTCH and MR CHOW.
THE DUTCH is a casual American restaurant and oyster room inspired by cafes, seaside shacks and roadside eateries. The menu features fresh fish, shellfish, choice meats and locally sourced produce.
MR CHOW is the famed restaurant known for its elevated Chinese cuisine. The restaurant's soaring interior is appointed with black lacquer furniture, gorgeous floral arrangements and artwork. Its centerpiece is a gold-leaf and Swarovski crystal chandelier designed by Chow himself. An army of white-clad waiters and captains serve the restaurant's specialty dishes such as glazed prawns with walnuts, Beijing duck, and more. The noodle making show is a crowd favorite.
At midnight, the W becomes a nightlife hot spot, as club hoppers converge to WALL, a trendy, exclusive lounge often visited by celebrities. Tuesday is the night when people in the know converge here. It is named Favela Beach, a night when the DJs kick it up a notch as everybody gyrates to the infectious beat. The club pulses into the wee hours with the hottest sound tracks, flashing strobe lights, colorful lasers, and white smoke.
ADDITIONAL AMENITIES
The W offers other amenities such as the BLISS spa, a state-of-the-art fitness center, called FIT, and a rooftop basketball court and tennis court, called SWISH & SWING. They also feature complimentary bicycles and a Pets Are Welcome (PAW) program.
In addition, the resort takes pride in superior service from pre-arrival to departure. Their special concierges, named INSIDERS, handle restaurant reservations, VIP access to hard to get venues and guests' special requests. The resort's signature WHATEVER/WHENEVER service is only a text message away.
To top it off, the W is located within walking distance to Lincoln Road, a pedestrian street lined with art galleries, fine shops and outdoor restaurants.
For W South Beach reservations and information visit www.wsouthbeach.com or call (305) 938-3000.