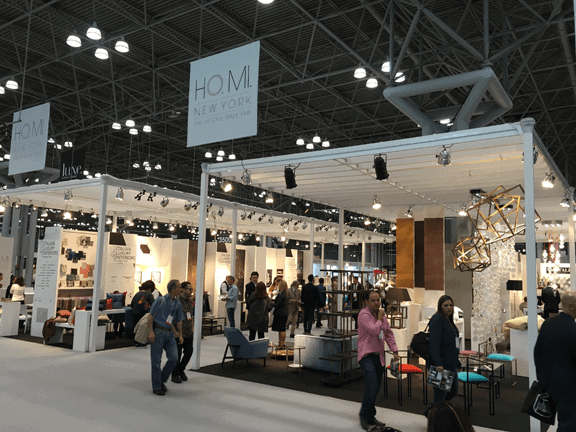 North America's premier showcase for contemporary design, the ICFF, features the latest design trends and cutting edge home furniture, decorating accessories and materials, as well as a series of educational programs and talks.
For the four-day duration of the Fair the Javits Center was abuzz with more than 33,000 interior designers, architects, retailers, representatives, distributors, facility managers, developers, manufacturers, store designers, and visual merchandisers.
Over 750 exhibitors from all over the globe displayed contemporary furniture, seating, carpet and flooring, lighting, outdoor furniture, materials, wall coverings, accessories, textiles, and kitchen and bath for residential and commercial interiors. This remarkable gathering of exhibitors is the place to view a broad yet highly focused selection of the world's finest, most innovative, and original avant-garde home and contract products side-by-side, under one roof.
The show also presented the 2016 ICFF Editors' Award winners as follows:
Best Seating: Mellow by Océane Delain for Bernhardt Design
Best Portable Design: Champ by Visibility for Matter Made
Best Design for Social Good: Tala
Best Lighting: Concentric by Rob Zinn for Marset
Best Floor Covering: Mid Century Modern Collection by Nasiri
Best Body of Work: The Grain Family, The Church Family and The Ada Family by Brendan Ravenhill Studio
Best First Time Exhibitor: Coil + Drift
Best Storage: Crain Cabinet by Egg Collective
Best Wallcovering: Waynetopia by Wayne White for Flavor Paper
Best Furniture System: RUN by Sam Hecht and Kim Colin for Emeco
Best Kitchen and Bath: Mid by Giovanna Talocci for Effegibi
Best School: Rochester Institute of Technology (RIT) for Metaproject 06
For more information about ICFF visit www.icff.com.
Mark your calendars for the first annual ICFF Miami® on October 5 & 6, 2016, at the Miami Beach Convention Center, presenting hundreds of leading brands and addressing every facet of better interiors for residential, hospitality, commercial and high end retail. Visit www.icffmiami.com for more information.∆