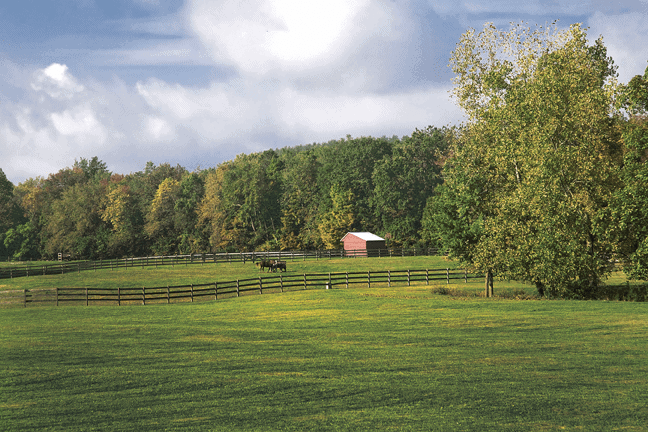 Are you looking for a luxurious country retreat, a place to unwind, clear your mind, and leave all the worries behind?
Book a weekend at Old Stone Farm, a country inn and wellness center in the heart of the Hudson Valley in Rhinebeck, New York.
The farm sprawls over 236-acres of green meadows, lively brooks, mirror ponds, and lush forests.
From the moment you enter the property you are surrounded by fields dotted with grazing horses. As you stop for a moment to take in the unfolding scene, you'll immediately feel a sense of peace and serenity.
A winding road takes you to the main building, Stu's Inn, a 1789 barn transported to this site and meticulously rebuilt and decorated. The nine guestrooms and one suite, all named after the resident horses, are exquisitely appointed with country antique furniture, original art, organic bedding, Frette linens and robes, and modern bathrooms. The farm also offers an additional, separate guesthouse with 4 bedrooms, perfect for families and friends. The décor throughout is flawless, as if staged for a photo shoot in an architectural magazine.
The farm is home to 22 beautiful horses that roam freely in large paddocks throughout the property. These horses are at the heart of the Eponaquest Experience, a guided program in the Horse Arena where you can have a close encounter with the magnificent equines. You can also book a professional riding class, or trail rides. (A fee applies for horse related activities.)
Start your day with a complimentary yoga class in the spacious and airy studio located in an 18th century barn.
After breakfast take a scenic hike along the winding trails that cross the wooded property.
Pamper yourself at the full service spa. Indulge in a deep tissue massage, a facial, or sweat your toxins away in a cedar steam cabinet.
Dining is one of the highlights at the farm's and is included in the room price. Enjoy three daily gourmet meals prepared from mostly locally sourced organic produce and meats. The beautifully presented dishes are a symphony of flavors and textures.
Old Stone Farm also offers immersion weekends dedicated to various themes such as Yoga, meditation, well being, and equestrian programs.
So spend a weekend on this tranquil property, and maybe you too will be inspired to live in the moment, like the horses, without worrying about the past or the future. www.oldstonefarm.org, 845-876-3977. ∆