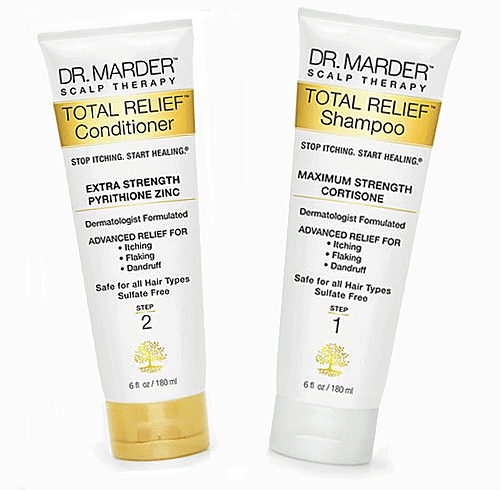 Stop itching and start healing with Dr. Marder Scalp Therapy TOTAL RELIEF™ Shampoo and TOTAL RELIEF™ CONDITIONER.
After decades of seeing patients who suffered from dry, itchy scalp and incessant dandruff, dermatologist Dr. Gary L. Marder, DO FAOCD set forth to develop a revolutionary product that would help his patients and fellow dandruff sufferers. Recognizing the scalp as a sensitive part of the skin that needs proper nourishment, Dr. Marder's Total Relief Shampoo & Conditioner products are formulated without sulfates, parabens or common irritants found in other haircare products. The shampoo and conditioner are formulated with natural extracts and antioxidants such as resveratrol, citric acid, coriander fruit oil and essential vitamins.
What makes Dr. Marder's Total Relief Shampoo different from other products is the addition of maximum strength cortisone. Dr. Marder's Total Relief Conditioner is formulated with extra strength pyrithione zinc.
Both Dr. Marder Scalp Therapy haircare products, Total Relief Shampoo and Total Relief Conditioner, contain a proprietary soothing botanical complex that includes a unique formula of natural extracts, vitamins and antioxidants. This dandruff system relieves itching and scaling, promotes new hair growth, prevents further dandruff outbreaks and helps heal the scalp. It is safe for all hair types. For more information visit www.drmarderskincare.com