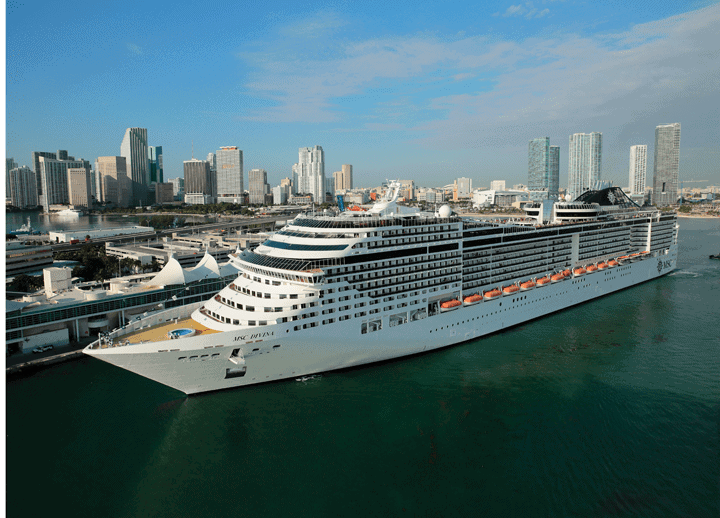 If you love cruising on a large ship, book your next voyage on the beautiful MSC Divina, an MSC Cruises ship plying the Caribbean and European seas.
MSC Cruises is an Italian company, popular in Europe and South America, that attracts passengers from all over the world. The Divina sailings from Miami are designed for the North American market with English as the official and only language on board, limited smoking areas, and special menus.
The Ship
Divina is a magnificent floating resort with 14 passenger decks and a guest capacity of up to 3,500 travelers.
The public areas are elegant and stylish, appointed with sparkling Swarovski crystal staircases, gleaming glass elevators, Italian marble, and beautiful artwork. Black and white posters depicting the 60s La Dolce Vita remind guests of the ship's Italian heritage.
Accommodations range from inside cabins to the exclusive, separate access Yacht Club.
Guestrooms are spacious and comfortable, decorated in bright colors with dark wood accents. They are appointed with floor to ceiling mirrors, mini bars, closets, and interactive TVs with movies on demand and ship services. The compact bathrooms feature a stall shower and under sink storage.
The ship is environmentally friendly with keycard activated room electricity, and bathrooms with soap and shampoo dispensers to eliminate toiletry bottles and wasted soaps.
Guests who stay in one of Yacht Club's 69 suites enjoy special privileges such as private lounges and deck areas, butler service, all drinks at the club, breakfast and lunch buffets, and intimate gourmet dinners with foie gras, lobster tail, and filet mignon at Le Muse restaurant.
The Yacht Club is very popular as many travelers prefer to pay higher fares for privacy but appreciate the amenities, entertainment and activities on a large ship.
Entertainment & Nightlife
The main entertainment venue is the stunning Pantheon Theater, the largest theater at sea, with a capacity of up to 1600 guests. The Divina has recently received the "best entertainment at sea" award from Porthole magazine.
Productions include Wonderland — a lavish Cirque du Soleil style show with acrobats, dancers and singers inspired by the characters of Alice in Wonderland, a show dedicated to Michael Jackson, and a marvelous Sinatra tribute. They also offer classical entertainment such as a one hour version of La Traviata, performed by opera singers and accompanied by ballet dancers.
After dark, the ship's bars and lounges come alive with Caribbean music, Latin dances, classical recitals, and sing-alongs.
Theme evenings, such as music from the 50s and 60s, and a white party under the stars, are also very popular and well attended.
Dining
The main dining venue for buffet breakfast, lunch and dinner is the Calumet and Manitu restaurant featuring numerous stations including a full pizzeria and a grill. The spread also includes salads, Italian cold cuts and cheeses, daily hot and cold selections, and ethnic food from different regions of the world. On sea days, breakfast and lunch are also offered a la carte in the dining room.
Dinner is an elegant affair with multiple daily choices, served at assigned tables in the main restaurants, Vila Rosa and the Black Crab.
For an additional fee, guests can dine in alternative restaurants, such as Eataly Steakhouse and Eataly Italia from NYC, and in the posh, glass enclosed Galaxy on the upper deck.
In addition, there are lounges throughout the ship where light meals, pastries, gelato, and specialty coffees are available for purchase.
On Board Activities
Guests can hop from activity to activity or just relax poolside or on one of the decks.
At the Aqua Park, the main outdoor pool, an energetic crew entertains with games, exercise classes, dance lessons, trivia and more.
At La Sirene, an enclosed pool with a retractable glass roof, guests enjoy all-weather swimming and hot tubs.
The back of the ship is home to an infinity pool overlooking the blue horizon — the perfect spot to take in the fiery Caribbean sunsets.
Guests who seek a more secluded area may purchase daily passes to the Top 18 solarium, a private deck dotted with cushy chaises and shady wicker cocoons.
The ship also features an Asian inspired spa with pampering massages and facials and relaxing steam rooms and saunas. Next to the spa, a fully equipped fitness center is available at no charge.
In addition, the ship offers game areas for children, a giant water slide, a Formula 1 simulator, 4D cinema, a cybercafe, library, soccer/basketball fields, bowling alleys, a shopping arcade, and a casino.
There are also enrichment lectures and classes. Their wine blending class is particularly popular, as guests mix wines and create unique blends that can be bottled under their own label.
And of course, there are the Caribbean islands, such as Puerto Rico, Turks and Caicos, St. Martin and others, with sun swept beaches, interesting shore excursions, and duty free shopping.
The base cruise price covers room, meals, entertainment and most activities. Other amenities, such as bottled water, wine and spirits, gelato, special coffees and alternative restaurants, are available for purchase as special packages or a la carte.
A great escape for sun and fun worshipers. www.msccruisesusa.com. ∆