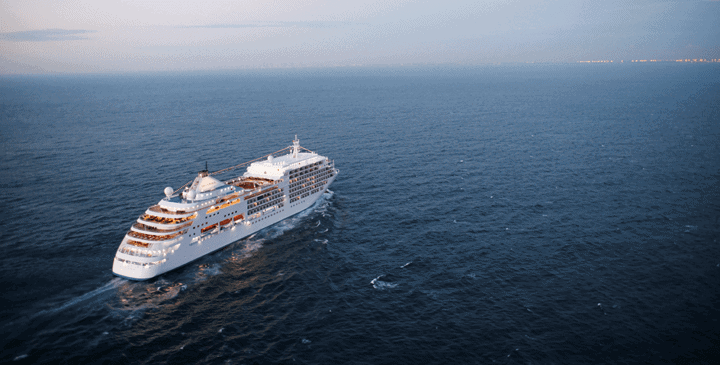 The sunny Caribbean islands attract many cruise lovers, but only savvy travelers understand that cruising is not only about the destination, but also about the journey.
Sailing on a Silversea ship is an experience in itself.

We sailed with the Silver Spirit on a seven day voyage from Fort Lauderdale to Puerto Rico. Here are some impressions and highlights from our trip:
Arrival and Embarkation
As experienced cruisers we prefer to book air and ship transfers from the cruiseline. This way they are responsible for our timely arrival at the ship, regardless of airline or weather delays.
Upon arrival at the Fort Lauderdale airport we are whisked to a private car for transfer to the ship. There is no waiting for other passengers from different flights.
The check-in consists of a fast credit card swipe for incidental charges, and in just a few minutes we sip a "welcome aboard" cocktail and head to our suite.
Exploring the Ship
Our veranda suite on deck number eight is the epitome of luxury at sea. The 376 SF space is divided into a bedroom and a living room, and a floor-to-ceiling glass door leading to an intimate veranda. On one side of the suite there is a wall unit with plenty of shelves and cabinets, a writing desk, a stocked mini bar, and two in-mirror TVs. The bed is dressed with luxurious Pratesi linens and with pillows that guests pre-select from a "menu" of 9 choices, including memory foam and buckwheat.
A spacious marble and dark wood bathroom offers a full size tub, a glass enclosed rain shower, and a vessel sink with a built-in vanity unit with space for toiletries and medicines.
An oversized walk-in closet/dressing room with shelves and drawers completes the suite's amenities.
A bottle of chilled Champagne awaits our arrival.
As we survey our new home, our butler introduces himself and enquires about our preference of toiletries (Ferragamo, Bvlgari or SebaMd) and choice of drinks for the mini fridge.
We start exploring the Silver Spirit, an intimate ship with a maximum capacity of 540 passengers. On the top deck some guests have already settled around the swimming pool, sipping frozen cocktails and taking in the sun. The lively bar hums as passengers chat over drinks and Illy cappuccinos and espressos. In a corner, a duo plays sail-away music.
We continue our tour through the common areas. From the ship's central atrium we access the well stocked library, computer room, card room, lounges, bars, spa, fitness center, theater, and casino.
The ship is immaculate, elegantly decorated in taupe and burgundy colors, accented with artwork, and dotted with white orchids.
Dining
A great cruise is often defined by the dining experience on board and Silversea is known for its gastronomic excellence.
The main dining venue is The Restaurant, a spacious room elegantly appointed with sparkling crystal, fine porcelain, candles, and orchids. The multi-course menu changes daily and includes specialties created by Relais & Chateaux. The servers are well trained and are quick to notice your needs. The sommeliers pour daily complimentary wines at lunch and dinner, and premium vintages for a fee. Complimentary cocktails are also available before, during and after the meals. Restaurant seating is not assigned, so you can dine with whomever you wish.
There are several additional dining venues, some for a nominal fee. Make reservations before the cruise, as some restaurants get fully booked fast.
Le Champagne is a small, intimate restaurant serving an elaborate menu highlighted by dishes such as Caviar and Blinis, Foie Gras, Lobster Thermidor, and Rack of Lamb. A culinary event not to be missed.
Seishin is an Asian fusion restaurant offering sushi, sashimi and other artistically prepared and presented dishes. It is also a great place to enjoy a sushi lunch.
La Terrazza, the venue for lavish buffet breakfasts and lunch spreads, transforms at dinner time into an elegant restaurant with indoor and outdoor seating featuring regional Italian specialties.
Stars Supper Club serves a tasting menu of artfully presented tapas with multiple bite-size servings. As course follows course and fine wines are poured, a pianist and a wonderful vocalist entertain guests with popular jazz tunes by the likes of Gershwin and Nat King Cole.
The Pool Grill, a casual outdoor eatery during the day, becomes an al fresco restaurant at sundown, where you grill-your-own seafood and prime cuts on hot lava rocks.
In the afternoon the ship offers an elegant High Tea with live music and gourmet selections of loose tea leaves, finger sandwiches, scones, and pastries.
If you want to dine in your own suite, there is an extensive room service menu including restaurant selections during dining hours.
Life on Board
There are many activities throughout the day including trivia games, cooking demonstrations, wine tasting and enrichment lectures.
You can also be pampered at the spa, work out in the fitness center, or just perfect your tan on the upper deck.
Entertainment consists of performances by a group of six talented artists featuring Motown, Opera, and Broadway highlights.
In addition, the lounges are alive with music: a trio plays dance tunes, two pianists entertain with international selections, and a duo plays dance music on the deck.
Every night, the panorama lounge turns into a lively disco, pulsating into the night with music from the 60s to Lady Gaga.
There is also an elegant Connoisseur's Corner — a cigar and cognac lounge decorated with rich leather and dark tones, where cigar aficionados can savor their favorite smokes and after dinner drinks.
Throughout the ship there are several lounges where guests sip complimentary cocktails and mixed drinks into the wee hours.
Itinerary Highlights
Our ports of call included Grand Turk, in Turks and Caicos, Samana in Dominican Republic, Road Town in Tortola, Gustavia in St. Barts, and Philipsburg in St. Maarten.
In every port the ship offers a selection of fairly priced excursions. It is best to book yours in advance. Some ports are easy to enjoy on your own but others are better experienced with an organized trip.
Our first stop was in Grand Turk in Turks and Caicos where we relaxed on a pristine beach with white powder sand, and calm, turquoise waters.
In Samana we took a "cave and mangrove exploration" tour (designated as a Silversea experience). We sailed around the Los Haitises National Park, a wild life sanctuary surrounded by island outcrops rising from the blue sea. We passed by Bird Island, home to nesting pelicans, frigate birds, and herons, and continued along a magical mangrove forest. We visited the caves of the Taino Indians who once populated this area. Surrounded by stalactite, stalagmites and limestone rock formations, we observed pictographs created by the Tainos 2,000 years ago.
Another remarkable excursion was a catamaran sail through the Sir Frances Drake Channel off Tortola. We moored a few yards away from three caves and snorkelled in crystal clear waters atop coral forests teeming with tropical fish of every color and size.
Gustavia in St. Barts is a sophisticated, French speaking town with Parisian style boutiques, lively cafes, restaurants, and luxury marinas with mega yachts. Just stroll around and you'll feel that you are on the French Riviera.
The last stop was in Philipsburg, St. Maarten, the shopping Mecca of the Caribbean. The ship offered an on board shopping concierge who accompanied passengers and helped them purchase duty free jewelry and fine watches at cruiseline approved shops.
* * *
Cruising is a great escape, but on board Silver Spirit it is an experience in a class by itself. www.silversea.com.