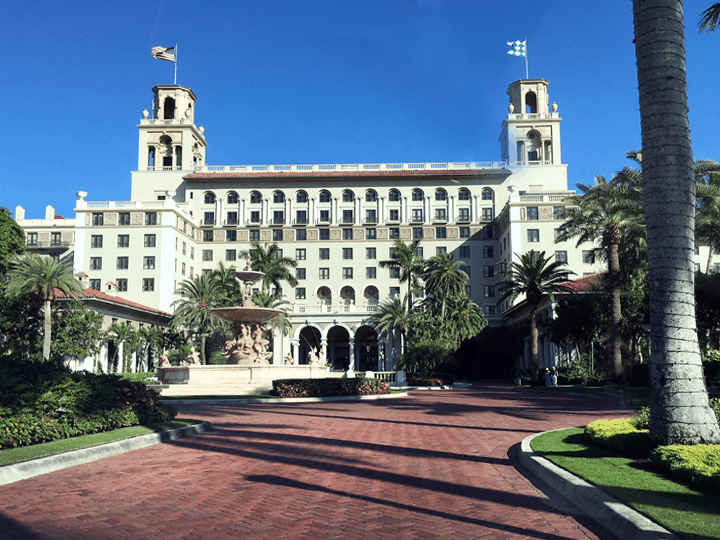 Surrounded by 120 tropical acres, The Breakers hotel in Palm Beach stands as a living testimony to a bygone era of luxury and opulence. A high society mecca during the roaring twenties, The Breakers today is still a world-class resort, a trendy destination and the hub of Palm Beach society.
A BRIEF HISTORY
The building as it stands today, opened in 1926 following a tradition of luxurious hospitality that began in 1894 when Industrialist Henry Morrison Flagler opened the Royal Poinciana on the shores of Lake Worth.
Flagler's heirs built The Breakers in the grand style of Italian palaces and villas. They employed 1,200 craftsmen including seventy-three Italian artists who created magnificent frescoes, graceful arches and breathtaking vaulted ceilings. The original Venetian chandeliers, mirrors, crystals, paintings and Flemish tapestries still grace the hotel's interior.
The resort attracted Gilded Age magnates such as the Rockefellers, the Astors, the Morgans and the Carnegies, who made The Breakers their winter home. These moguls started a tradition of balls and galas that defines the Palm Beach lifestyle.
Today, still under the ownership of Mr. Flagler's heirs, the resort continues its tradition of refined hospitality welcoming couples, families, multi generational groups and socialites. Its grand halls and manicured grounds reverberate with fairytale weddings, charity balls and corporate events.
YOUR HOME AWAY FROM HOME
An AAA five-diamond property, The Breakers offers 538 guest rooms, including 68 suites, two imperial suites and four Royal Poinciana suites.
For the ultimate in luxury, book a room in the recently renovated Flagler Club, a 25-room ultra deluxe boutique hotel inside The Breakers. The Club features a private elevator, personalized concierge, premium amenities, a Lounge with gourmet food and top shelf drinks, and even chauffeured Tesla cars for neighborhood shopping and sightseeing.
PLACES TO EAT OR DINE
The Breakers is home to several dining venues from beachfront bars serving light bites and drinks to fine dining restaurants.
The Seafood Bar is a casual restaurant, recently renovated in the style of a modern yacht club with black lacquer accents, open kitchen and picture windows overlooking the beach and the ocean. Order the sublime tuna tartare, the crispy crab cakes and the savory lobster coleslaw. You'll also love their loaded burgers served with matchstick truffled fries. Sit by a window and take in the blue-sky, azure sea and green palms.
Another popular dining venue is the new HMS (named after Henry Morrison Flagler), a trendy bar and restaurant located in the Florentine dining room, an opulent space with soaring ceilings and sparkling chandeliers. HMS offers crafted cocktails, fine wines and a myriad of small plates, sushi and fusion cuisine. A great place to unwind.
If you crave a great steak, head to Flagler Steakhouse at the Golf and Tennis Clubhouse, a short shuttle ride away from the main entrance. The elegant room with soaring ceilings and elegant wall paneling is reminiscent of a private club. Enjoy their outstanding steaks, Italian favorites and fresh fish entrees.
Don't miss the sumptuous breakfast or Sunday Brunch at The Circle. This grand dining room is adorned with frescoes of gods and goddesses, murals of romantic Italian scenes, a Venetian bronze chandelier and a Renaissance style orchestra balcony on marble pillars. Step back in time and imagine the extravagant galas and debutante balls that took place in this very room.
PLENTY OF THINGS TO DO, OR NOT
The Breakers offers a plethora of activities for the most active or the most sybaritic guest: A sprawling Beach Club with pools and a private beach, ten tennis courts, a 6,000 square foot indoor/outdoor fitness center, two championship golf courses nearby and a state-of-the-art Spa.
The amenities at the newly reconstructed Spa include a classic courtyard, modern lounges, a beauty salon and an extensive menu of spa services performed by highly trained therapists. Indulge yourself in a soothing massage and an anti-aging facial and chill out in the relaxation room with a glass of Bubbly, ice cream and snacks.
The Breakers also offers a selection of organized activities including tours, catamaran sails and snorkeling adventures.
If you travel with kids they'll enjoy the supervised, age appropriate activities at Camp Breakers designed for ages 3 to 5 and 6 to 12.
A visit to The Breakers would be incomplete without some retail therapy at the resort's fine stores or nearby along Palm Beach's famous Worth Ave.
So follow the movers and shakers of days past and present — and treat yourself to a memorable vacation at The Breakers.
For bookings and additional information visit www.TheBreakers.com or call (877) 724 3188.