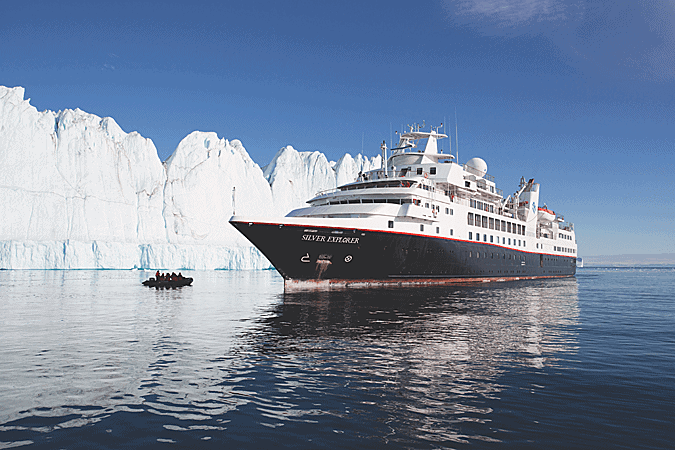 SILVERSEA ANNOUNCES 2018 ITINERARIES
Silversea Cruises, the world's leading luxury cruise line, announced its 2018 itineraries. The 9 ships from across Silversea's Classic and Expedition fleet will visit 130 countries and will open unique worldly experiences for its guests to enjoy from the elegant comfort of Silversea's newly refurbished ships. The itineraries span all 7 continents, 1000 destinations, of which nearly 300 are new to Silversea.
Key highlights of the Ocean Cruise destinations for 2018 are the tens of UNESCO heritage sites to which Silversea guests will have access. Sites that range from the magnificent Italian Amalfi Coast to Halong Bay, Vietnam, all packaged up with the trademark Silversea standards of unbridled luxury.
Silver Cloud starts 2018 as an ice-class expedition ship following an extensive refurbishment and conversion, hinting at its polar intentions. Silver Discoverer sails deeper into Asia, with many new destinations in Thailand, Malaysia, Vietnam, Cambodia, the Philippines and Japan. Climates that range from polar to the tropical, guarantee that Silversea Expeditions are able to cater to a broad range of travelers, wherever they wish to venture.
Here are some 2018 itinerary highlights:
The Ultimate Mediterranean experience: 44 days in the heart of the Mediterranean season aboard Silversea's flagship, Silver Muse. This Grand Voyage will call at 39 different ports in nine different countries, from the Greek Isles to the Balearics, from the French Riviera to Tuscany and the Amalfi Coast. The ultimate Med experience.
New Asian experience: five voyages to the Philippines with three different ships (Silver Shadow, Silver Whisper, Silver Muse). A key highlight destination is the island of Palawan, voted the "Best Island in the World" for the second time in a row (by readers of Travel and Leisure magazine; Conde Nast Traveler).
Africa & Indian Ocean: several voyages in the heart of the Indian Ocean, exploring the beautiful Vanilla Islands, with multiple visits to Maldives, Seychelles, Madagascar, Mayotte and Reunion.
Explorer by Name and by Nature: Silver Explorer sails across the Pacific Ocean to Kiribati, the Cook Islands and French Polynesia, adding new ports of call along the way. She will also carry her guests to the North West Coast of America, to Costa Rica, the Southern-most tip of Mexico's Baja California peninsula (home of El Arco), visiting Monterey, Anacortes and Cypress Island.
For more information on Silversea Cruises, please call toll-free (877) 215-9986, or contact your travel agent.
For a complimentary brochure, please visit www.silversea.com.