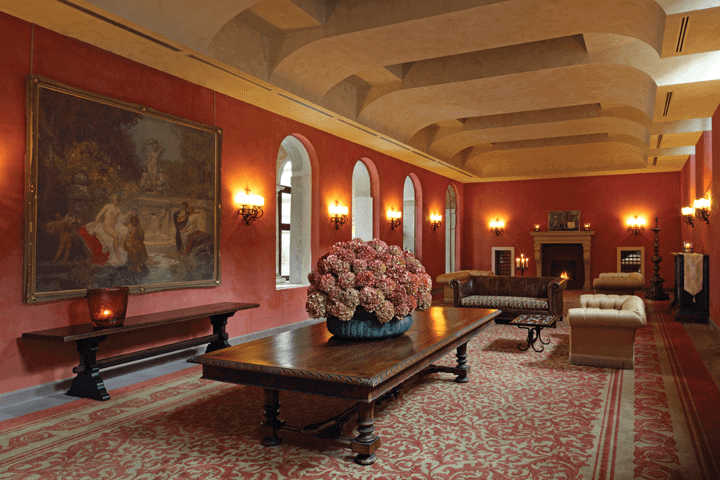 The Bauer Palladio Hotel & Spa
 is a luxury property on Giudecca Island across the lagoon from
St. Mark's Square — but a world away.
Located amidst flowering gardens and verdant trees, the Palladio, originally a sixteenth century convent, was lovingly restored and transformed into a modern hotel with all amenities.
The main building has 37 rooms and 13 suites with warm decor and soft color palette. Rooms have lagoon or garden views, some featuring small balconies. A separate building offers additional accommodations overlooking the white hydrangea gardens.
Breakfast is served al fresco in the beautiful courtyard. It features Italian style fare such as cold cuts, cheeses, hard boiled eggs, pastries, fresh fruit, cereals, yogurts and frothy cappuccinos.
For dinner, the restaurant L'Ulivo offers Italian and Mediterranean fare. Try the foil baked sea bass with vegetables or the fillet of beef with mushrooms and black truffles.
The hotel spa is a popular attraction. One of their signature treatments is the couples "Dreamers Ritual," a unique experience that stimulates energy flow from sky (head) to earth (feet). The ritual, performed in a special suite, begins with a scalp massage, followed by face cleansing and exfoliation, and concluding with a bath and a soothing foot massage.
The Palladio is ideal for guests who prefer a private, off the beaten path hotel, but can reach Venice's center in minutes via the complimentary shuttle boat service.
Visit www.palladiohotelspa.com for information. ∆