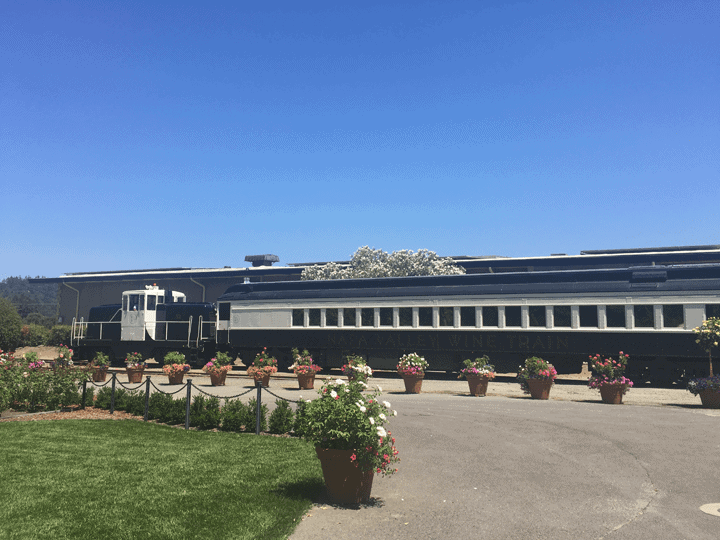 "All Aboard!"
We step onto a vintage railway car, and are welcomed with a glass of sparkling wine and escorted to our table. The beautifully restored Pullman train pulls out of Napa Station and we are soon immersed in sprawling vistas of perfectly aligned vineyards laden with Merlot and Cabernet grapes.
We are on board the Napa Valley Wine Train, a great way to explore California's Napa Valley, the country's most famous wine producing region. The Wine Train travels at 15-18 miles an hour from Napa thru Yountville, Oakville, Rutherford, St Helena, and back to Napa. Its newest tour, Quattro Vino, is a six-hour day trip that pays homage to the early Italian winemakers who established Napa as the Wine Capital of the New World. The tour combines private visits and tastings at four wineries with a progressive gourmet meal served on board in between stops.
Our visit occurs right before the "crush" season when grapes are harvested, so the small grapes we see are thick and full, basking in the sun and absorbing droplets of water that drip from special irrigation pipes. "We are having a drought," our tour guide says, "but it is good for the grapes. We'll have great wines."
As the train continues through the fertile valley, we are served breakfast, called "First Bite" — a tasting of Ciabatta bread with shaved pork, arugula pesto, caramelized onions, sliced egg and Manchego cheese, along with a Greek yogurt parfait with mixed berries and almond granola, and a small serving of brulé steel cut oatmeal. We are now ready for some wine tasting.
Our first stop is at the Robert Mondavi Winery where a local guide leads us through a modern building with cellars and large caves filled with oak barrels. We enter a private tasting room and get a brief lesson in wine making and an introduction to the art of wine tasting. (Look, swirl, smell, sip, swish in the mouth, taste, don't judge yet, sip again, let your taste buds feel). Than we sip four of the Mondavi wines. A very nice start.
Back on board the train, the "Second Bite" is served — A delicious asparagus velouté with truffle oil, and a refreshing Bibb lettuce salad with fennel, apple, blue cheese and Dijon vinaigrette.
As we complete our second course, the train stops next to an imposing landmark brick building, home of the Charles Krug Winery, the oldest winery in the valley. Run by the Mondavi family for four generations, the winery produces some of the finest wines we sampled in our Napa Valley trip. We loved their Generations Family Reserve wine.
Back on the train the mood becomes jovial and celebratory and we are ready for our third course, a choice between duck sausage on a silky potato puree topped with grilled onions, or seared halibut with fava, lentil and white bean saffron ragout.
We continue with a visit to the Merryvale Vineyards, where we taste a fine 2014 Chardonnay, a 2013 Pinot Noir and an excellent Antigua, Muscat.
The fourth and last stop is the V. Sattui Winery, a well-known grower of organic and sustainable grapes. Their Madera wine is delicious.
Our dining experience concludes with a sampling of apple ricotta cannoli, a warm flowerless chocolate cake and a tart au citron.
Around 4:15pm the train returns to the main station in Napa where we purchase photographs and souvenirs and say farewell to new friends.
The Wine Train offers many other trips from evening dinners to daily three-hour journeys. We found the Quattro Vino to be just the right length, very informative, and thoroughly enjoyable. Visit winetrain.com for the many options available.