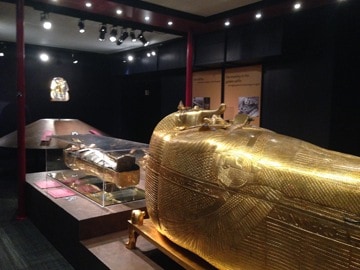 An exhibition dedicated to the discovery of King Tut's tomb was on view at the Premier Exhibitions 5th Ave., at 417 5th Ave. The exhibit featured over 1000 precisely crafted replicas of Tutankhamun's treasures and artifacts.
The Discovery of King Tut took visitors back more than 3,000 years to trace the story of the boy king who reigned for a decade and died suddenly at age 19. This thrillingly unique experience explored the legendary tomb and its treasures as they were at the exact moment of their discovery. Visitors stepped into a moment only ever witnessed by Howard Carter's excavation team, and view more than 1000 precisely crafted replicas and reconstructions, and discover the story behind one of the most iconic moments in history.
The tomb's magnificent burial goods have been reproduced exactly down to the finest detail by expert Egyptian craftsmen and renowned Egyptologists. These exquisitely crafted replicas and reconstructions, allowed visitors to step into the wonder of the discovery as if the original excavation in the Valley of the Kings has been reopened. The exhibition also brought together a collection that can only be seen separately elsewhere, even in Egypt: because the king's treasures are kept in the Cairo Museum. In addition, Tutankhamun's beautifully painted tomb in the Valley of the Kings has been stripped of everything but his mummy, the outer coffin and the stone sarcophagus. By contrast, the exhibition experience culminated in exact reconstructions of three chambers from Tutankhamun's tomb, revealing themselves just as the discoverers saw them. A radioplay-like audio tour based on Howard Carter's diaries, video documentaries, extensive texts and object descriptions and unhindered access to the objects together provided an exciting, as well as informative, experience for all the senses.  www.tutnyc.com.